Féraud-Brunel Cotes-du-Rhone 2012
| Cotes-du-Rhone, France | Rating: |
| --- | --- |
| Cost: $20 (if you can find it!) | Jess – 3.5/5 |
| Rating: 89 (Wine Spectator) | Travis – NA |
I already reviewed the excellent Tortoise Creek Zinfandel I tried while was on a business trip to San Antonio, TX. This Féraud-Brunel Cotes-du-Rhone was another suggestion from the bartenders at Zinc Bistro.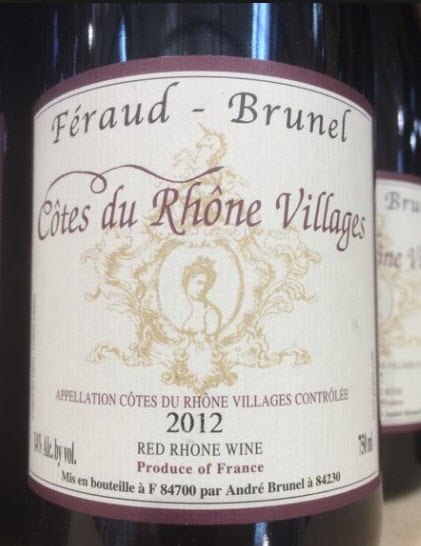 This was fun little work trip and fortunately the conference I was attending was in the Riverwalk area! There were so many places to eat things to do! You can check out some of the area highlights here.
Winemaker Notes:
Through the Féraud-Brunel label, Laurence Féraud and André Brunel of Châteauneuf-du- Pape source old-vine Grenache from the best growers in the Côtes-du-Rhône, turning them into some of the best-value wines in the region. What sets this venture apart from other negociants is that it is run with the savoir-faire of truly exceptional winemakers working in perfect partnership.
~ Féraud-Brunel Wines
Wine Notes:
Winery: Féraud-Brunel
Alcohol: 14%
Varietal/Blend: 80% Grenache, 12% Mourvédre, and the rest Cinsault & Vaccarése
Tasting Notes:
Deep Ruby, medium bodied wine. Very aromatic on the nose with scents of cherries, licorice, and some spice. Smooth on the palate and quite dry with mellow tannins.
As with most dry wines, this would have paired excellently with a hardier meat dish. I was drinking this with an amazing margarita pizza. It wasn't the best pairing, but not unpleasant.
However, I did really enjoy it once my dessert arrived. Paired with an outstanding apple bread pudding with vanilla ice cream, the flavors in this Féraud-Brunel Cotes-du-Rhone created a nice contrast.
Click the label to buy now!
This wine is similar as I can't find the current one for sale!​​​​
Are you looking for other moderately priced great wines? Check out our list of great wines under $25!
Tell me what you think about this Cotes-du-Rhone!
Or do you have another favorite you think we should try for another Wine Down Wednesday!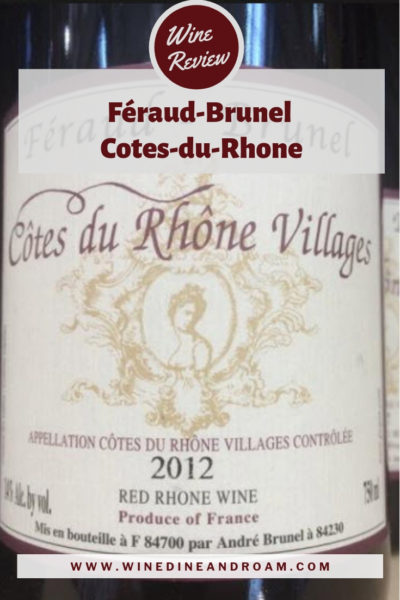 Other Wine Down Wednesday posts you may like…