Tortoise Creek "The Chelonian" Zinfandel 2015
| Lodi, CA | Rating: |
| --- | --- |
| Cost: $14 (average – 2016 vintage) | Jess – 4.5/5 |
| Rating: 87 (Wine Enthusiast) | Travis – NA |
I was on a business trip to San Antonio, TX last week and naturally went in search of a wine bar for dinner on my first evening. I discovered Zinc Bistro. A charming spot a few blocks off the river in downtown San Antonio.

The bartenders were extremely knowledgeable and recommended this wine for me to try. I'm so glad they did! All of the wine and food teh suggested after chatting with me was exactly what I was looking for. It was a hard decision to try other dining spots the other evenings of my trip!
Winemaker Notes:
"The Chelonian" refers to the genus of tortoises and turtles. Starting with the 2009 vintage Lodi Zinfandel "The Chelonian", Tortoise Creek Wines has partnered with the Chelonian Research Foundation (CRF) to donate a portion of the annual profits to benefit the conservation of turtles and tortoises.
~ Tortoise Creek Wines
Wine Notes:
Winery: Tortoise Creek
Alcohol: 14.7%
Varietal/Blend: 90% Zinfandel, 5% Tannat, & 5% Petite Syrah
Fermenting/Aging: 6 months in oak
Tasting Notes:
Medium bodied jammy zinfandel, but not overly sweet as some zinfandels can be. Raspberry, cherry and plum notes mix pleasantly with flavors of vanilla and cinnamon in the long finish.
I did pair this particular wine with an amazing margarita pizza. It was really nice with the fresh tomato and basil. I think it also would have held up well with something spicer, though I personally don't usually care for food that's too spicy.
I really enjoyed this wine. And while it was a bit expensive by the glass (what wine isn't in a touristy downtown area?), I was pleasantly surprised at the bottle cost when I looked it up. This is something we could easily pick up a few bottles of to have on hand. It also made me realize that I need to try more Lodi zinfandels!
Click the label to buy now!
Are you looking for other moderately priced great wines? Check out our list of great wines under $25!
Tell me what you think about this Zinfandel!
Or do you have another favorite you think we should try for another Wine Down Wednesday!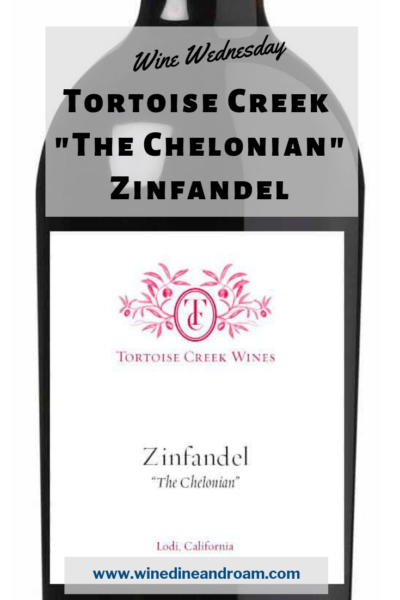 Other Wine Down Wednesday posts you may like…