Sonoma, Napa's neighbor to the west, is made up of 19 AVAs and more than 425 wineries. That is A LOT of ground to cover! If you're only visiting for a short time you need a short list of excellent stops to get you started. I always enjoy the smaller, family run spots the most, so it's what this list is made up of for you. Here's my list of 5 great wineries in Sonoma.
Tips Plan Your Sonoma Trip
Choosing Sonoma vs. Napa
Sonoma is a larger area and more spread out than Napa. Sonoma feels a bit more relaxed and less commercial. I have found that I have learned more when visiting Sonoma wineries because you get the feeling that you can just hang out and ask questions vs. being on some scripted time table.
This also means it tends be a bit more affordable in accommodation pricing, tasting and tour cost, and even the bottles you choose to bring home. However, that's not to say you can't find luxury experiences in Sonoma that cost more, because you certainly can if that's what you're looking for.
In contrast to Napa which is known primarily for Cabernet Sauvignon, Sonoma is known for grape varieties like Pinot Noir, Chardonnay, Syrah, and Zinfandel. It is a cooler region over all (though it does have some hotter, dry areas) and you'll be able to see that in the wines.
Where to Stay
There are a couple of towns you can easily use as a homebase while visiting Sonoma. Healdsburg is by far my favorite! Healdsburg is centrally located, has and AMAZING town square area, and is full of great places to eat. There are hotel options, boutique rentals, and many VRBO options. Santa Rosa is another option that's also centrally located, but I found it to be a bit less charming than Healdsburg.
5 Great Wineries in Sonoma to Visit
Wilson Winery
Wilson quickly became one of my favorited wineries. Their property is beautiful and they offer tastings on their back deck overlooking a sea of vines. Founded in 1993, Diane Wilson has done a great job establishing herself as an award winning winemaker.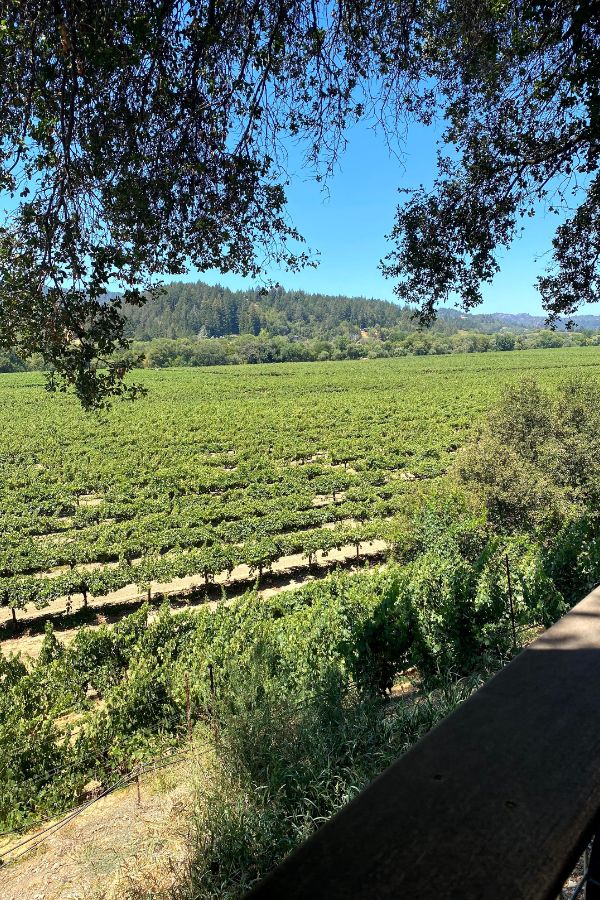 Their Zinfandels are just amazing. Depth and complexity, not too fruity and very balanced. They offer many single-estate Zins from different plots and it's interesting to compare the terroir across the same grape and winemaker. Stainless steel fermentation tanks and both French and American oak barrels are used to craft their stunning collection of wines.
Seating is limited, so be sure to make a reservation. They do have some covered areas should the weather not cooperate and they offer heaters should it be chilly. Dogs AND picnic foods are welcome (just no outside alcohol… duh)! We headed just up the road to Dry Creek General Store for some sandwiches to bring back with us for our tasting.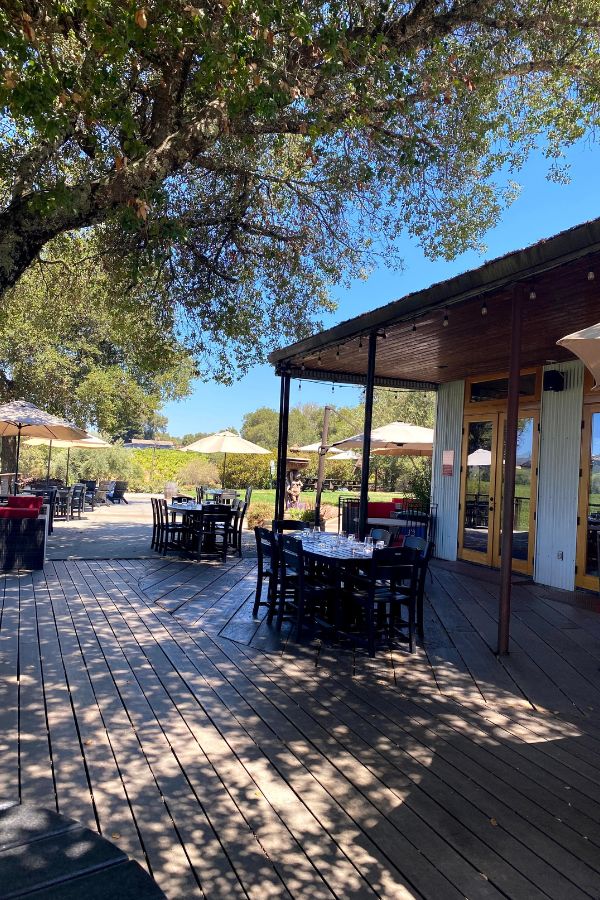 Wilson Details
Hours: Daily 11am – 5pm (last seating at 4pm)
AVA: Dry Creek Valley
Address: 1960 Dry Creek Road, Healdsburg CA 95448
Tours & Experiences:

Signature Deck Tasting $25/pp (waived with 1 bottle purchase)
Porter Creek Vineyard
I can't remember where I stumbled across this small vineyard in my planning, but am I glad I did! We were so impressed, it made this 5 great wineries in Sonoma post! Their Pinot Noir was the stand out winner for us. 45 year old Pinot Vines are just impressive and so is the wine that comes from them.
The winemaker at Porter Creek, Alex Davis, has a strong belief that the foundation of great wine is all about the farming. Then you just work with the grapes in a gentle way. He follows a traditional old world approach – not so heavy handed as you might find in other New World vineyards.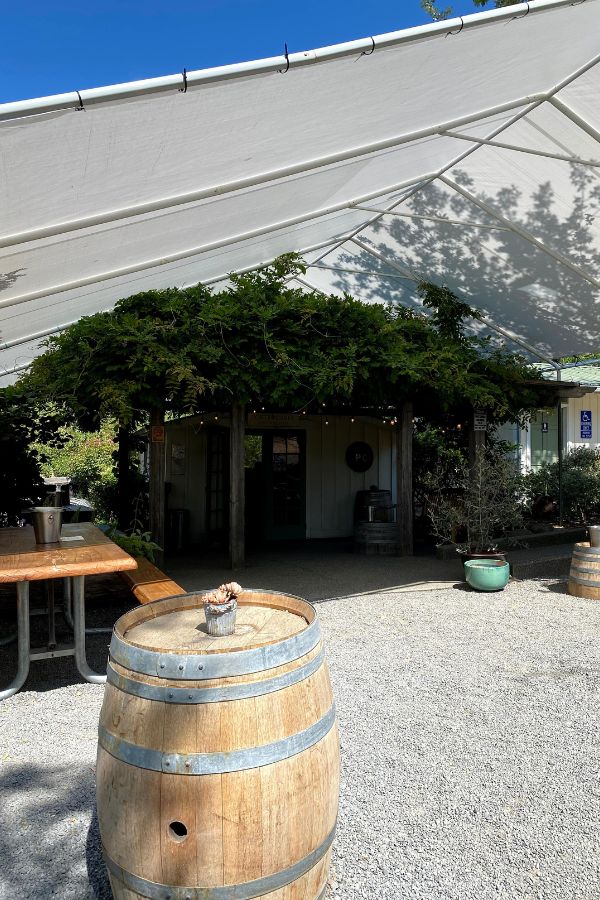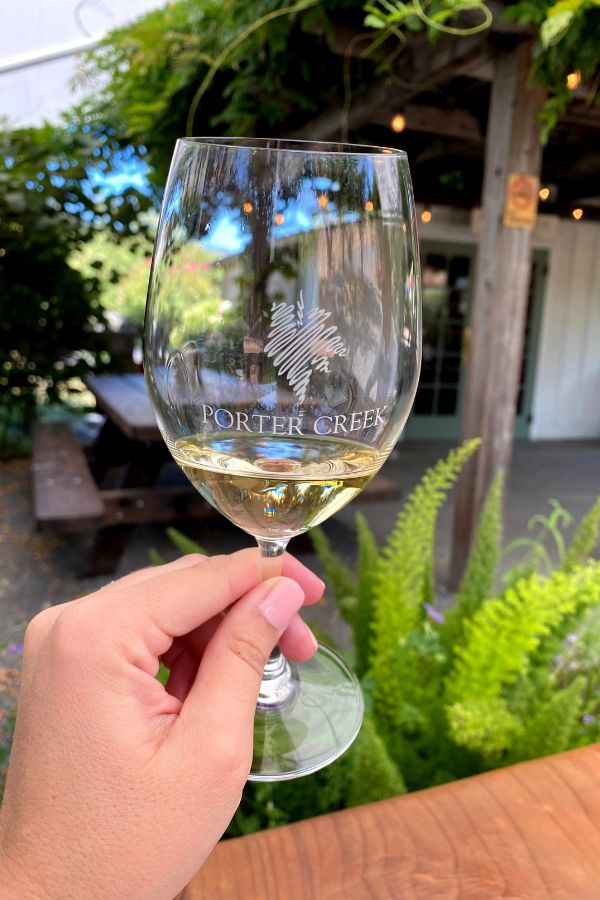 Jonathan was our tasting guide and his knowledge of the practices, property, and wines was impressive. He really shows how he's a part of the vineyard family – not just some tasting room associate hired on for a season. Easily hop on to Open table to grab a reservation for a seated tasting with 5 wines. Be sure not to miss their Carignane "Old Vine" or their Pinot Noir "Fiona Hill Vineyard" if they are available when you visit.
Porter Creek Details
Hours: Daily 10:30am – 4:30pm
AVA: Russian River Valley
Address: 8735 Westside Rd. Healdsburg, CA 95448
Tours & Experiences:
Bella Winery
Here's another small, family run, great winery in Sonoma. They focus on their 100+ old vineyards and produce small lots of Zinfandel. Everything we tried was great, but it was the Hills and Benches Zinfandel and their Late Harvest Zinfandel that got shipped home for us.
They offer multiple tasting experiences and often have events on their Bella Backyard calendar. We did the Drive Through the Clouds tasting and enjoyed out flight with a grazing box on a picnic table among the vines. It was a fun ride up the hill (mountain?) and we were able to see more of the property that way.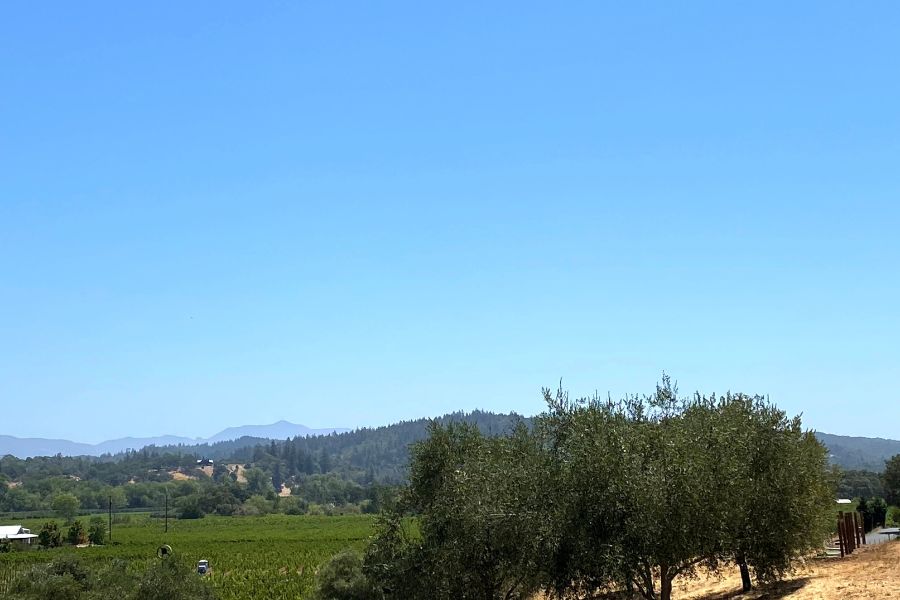 If I were to make my way back for another visit, I'd try to time it with some event involving their pizza! All the images and reviews of it sound great. I also know that their zins are awesome with pizza (since we shipped 12 bottles home). Even if you just come for a simple lawn tasting, the view, atmosphere, and chairs are all super inviting.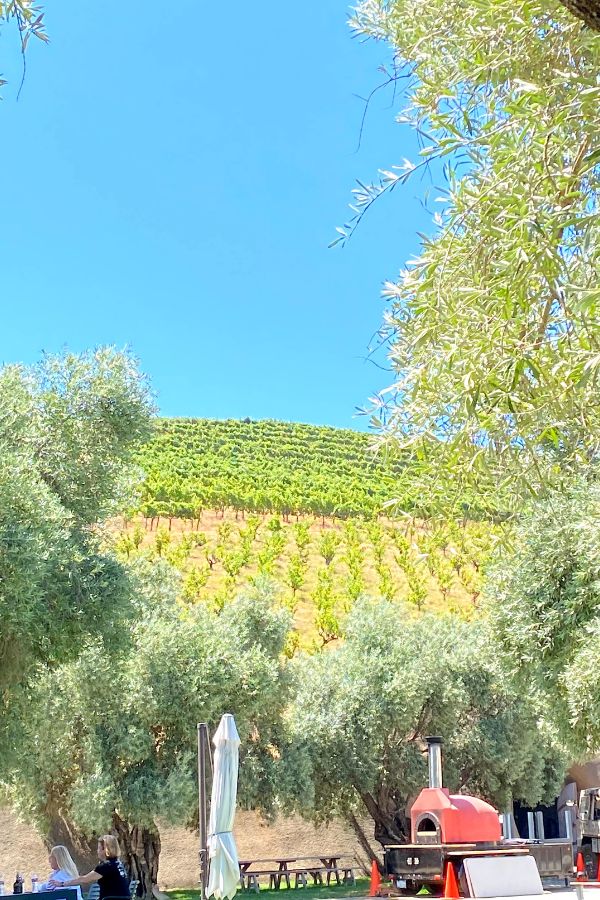 Bella Details
Hours: Daily 11am – 5pm
AVA: Dry Creek Valley
Address: 9711 West Dry Creek Road Healdsburg, California 95448
Tours & Experiences: Book ahead here

Seated Wine Tasting – Daily $30/pp
Drive Through the Clouds – Friday, Sunday Monday (allow 2hrs) $85pp
Bella Lawn Diavola Pizza + Wine Tasting – Select Weekends $65pp
+ MORE
Rockpile Vineyards
Rockpile's tasting room is conveniently located right off the main square in Healdsburg. We were also staying in one of their boutique rentals just around the corner. While not in our firm plans, of course we had to stop in!
This winery is a part of a larger family of wineries – and Wilson is one of them. It has a unique perspective in how their wines are made. They take grapes from their Rockpile Vineyard and divide them between the 3 winemakers that also make wine for the other family brands. This shows grapes all from the same place, just influenced by different winemaking styles. It is really fun to do some side-by-side tastings here!
Rockpile Vineyard boasts 60 acers of red varietals: Zinfandel, Petite Sirah, Cabernet Franc, Petit Verdot, Syrah, & Cabernet Sauvignon. This selection allows for great single varietals as well as exciting blends. The staff is personable and outstanding at sharing the nuance of each of the different wines and the parcels of land they come from.
Rockpile Details
St. Francis Winery
This Winery made our list based on the wine & food pairing choices available and their reviews. While these wines were not our favorite out of all we tasted, they really were a treat with the chef paired bites from the Estate Pairings experience we chose.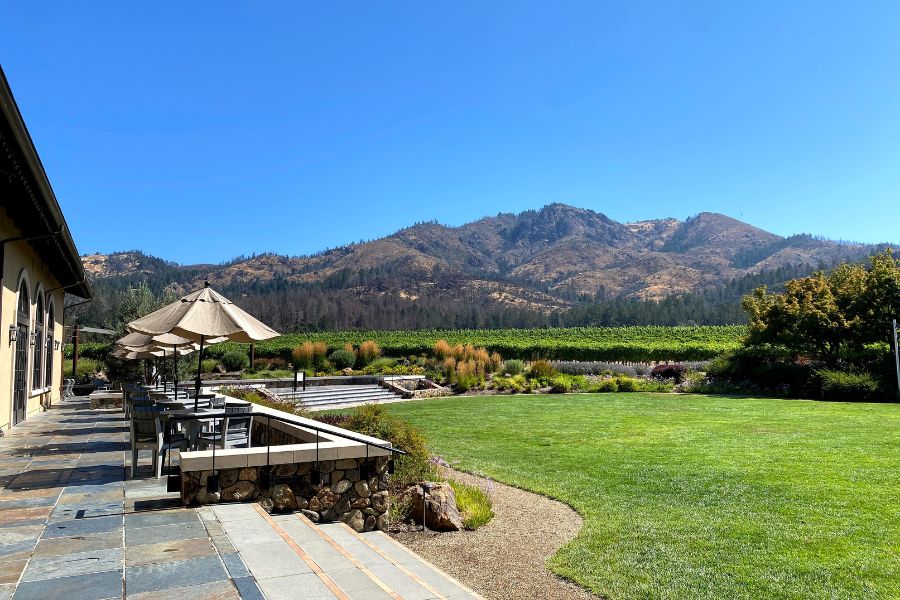 The St. Francis Winery Estate Pairing is held on an beautiful, pergola covered patio overlooking the vines and gardens. Our host/tasting guide was very knowledgeable about the wines and why they were chosen to pair with each dish. She instructed us when to save a sip to also taste with the next dish – not just the originally intended match.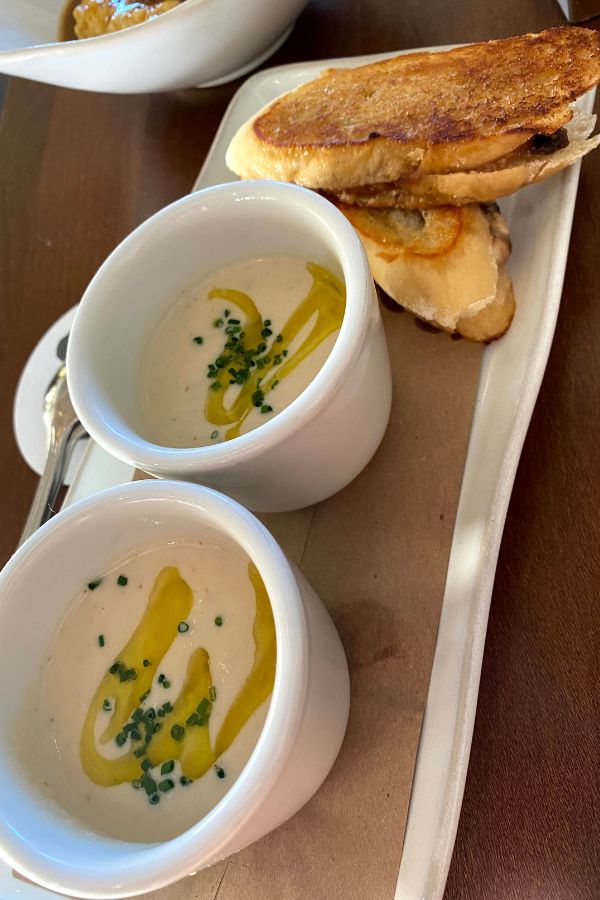 The overall experience was delightful and relaxing. I'd recommended it for sure! I think if we visit again, we would try out the Pedal Trolly Tour!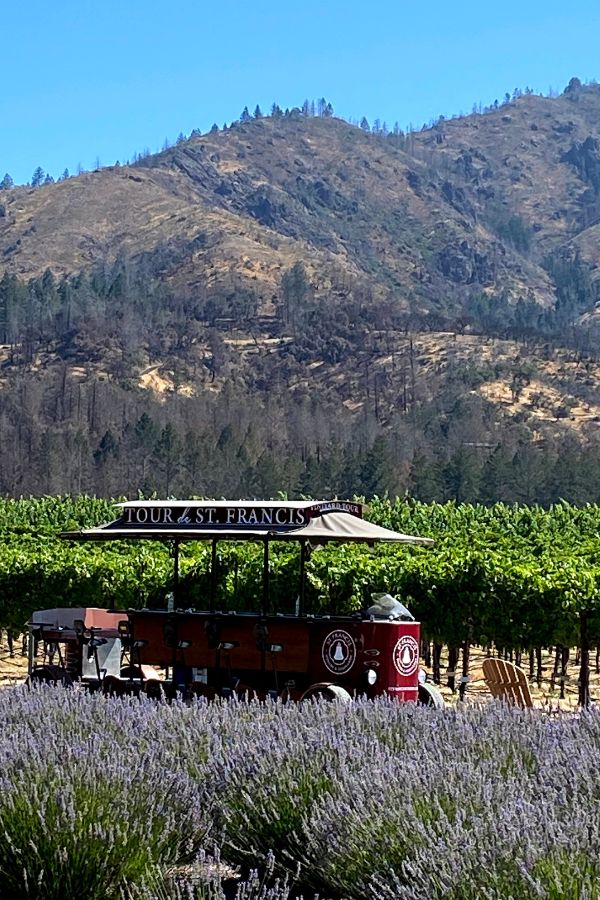 St. Francis Details
Hours:
AVA: Sonoma Valley
Address: 100 Pythian Road at Hwy. 12 Santa Rosa, CA 95409
Tours & Experiences:

Artisan Flight $35/pp
Estate Pairings $70/pp (small bites with flights)
Wine & Food Pairings $125/pp (5 course dining experience)
Pedal Trolly Vineyard Tour & Tasting $60/pp (seasonal – May through October)
+ MORE
Nalle Vineyards
I know I said 5 great wineries in Sonoma, but I couldn't leave this one off the list.This was the one on my list that we didn't get to the last time we visited, and it will be FIRST on the list for our next trip out!
I have been hearing amazing things about these old vine zinfandels for a while and really want to know more. They continue to be votes one of the top wineries in Sonoma and Healdsburg. Their style is a lighter style of Zinfandel than others around them making them unique. I can't wait to try it.
Nalle Details
Hours:

Wednesday & Thursday 11am & 1pm – by appointment only – book here
Friday 11am to 2pm – appointments recommended
Saturday 11am to 3pm – appointments recommended

AVA: Dry Creek Valley
Address: 2383 Dry Creek Road Healdsburg, CA 95448
Tours & Experiences:

Wine Tasting $30/pp for flight of 4 (waived with 2 bottle purchase)
5 Great Wineries in Sonoma Summary
As I mentioned, with over 425 wineries in Sonoma, this is just the tip of the ice burg in terms of what you can explore. I'd love to hear about other favorites you have, so drop in a comment! Interested in a similar list for Napa? Check out my post on 5 Great Wineries in Napa!