I am fortunate enough to have a boss that really values continuing education. This past March, she sent me to a Lean Six Sigma conference in San Antonio, TX. My 2 days were full of lectures about process improvement and all kinds of great ideas to bring back to the office. However, I also had 3 nights in San Antonio, TX to eat explore! Here are some things I found to do in San Antonio Riverwalk.
Food Worth Exploring (and Wine…)
There are so many restaurants in San Antonio Riverwalk! A lot of them are chains: Hard Rock, Bubba Gump, Rainforest Cafe, Margaritaville just to name a few. There is definitely something for everyone.
Other restaurants are much smaller, local establishments – not chains. Those are the ones I always look for when scouting for how to use my limited time in a new area. I always want to find the places the locals frequent when visiting some place new.
207 N. Presa St. San Antonio, TX 78205
Hours:
Mon – Fri: 11am – 2am
Sat & Sun: 3pm – 2am
Happy Hour: 3pm – 6pm
A few blocks from the river is this little gem of a restaurant. After dropping my bags at my hotel, food and a glass of wine were the first things on my mind. I had done some scouting on Open Table for places with great wine lists and then had this place confirmed by my Uber driver as an awesome choice.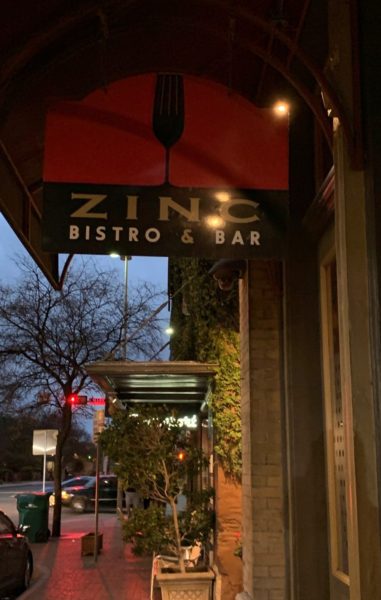 The by the glass list was pretty large, which is great because I should not be drinking a whole bottle by myself on a work trip. Plus, I wanted to try more than one wine! I sat at the bar and sipped on some water while I reviewed the list. One of the bartenders (it was busy for a Tuesday so there were a few) asked me what I usually liked and what I thought I might want for dinner and made a few suggestions.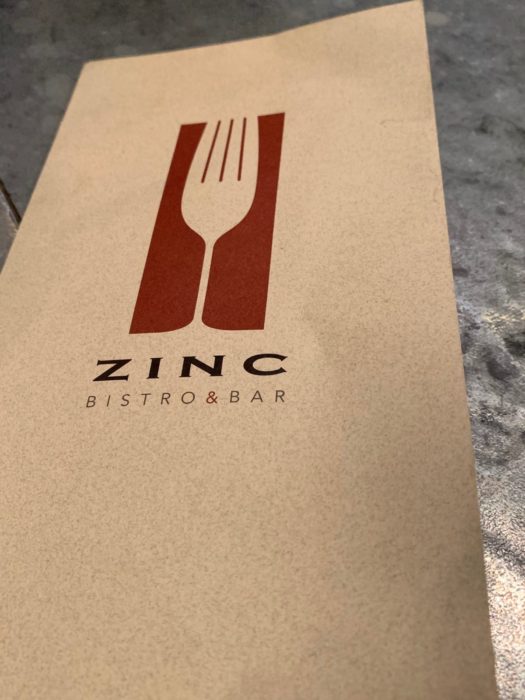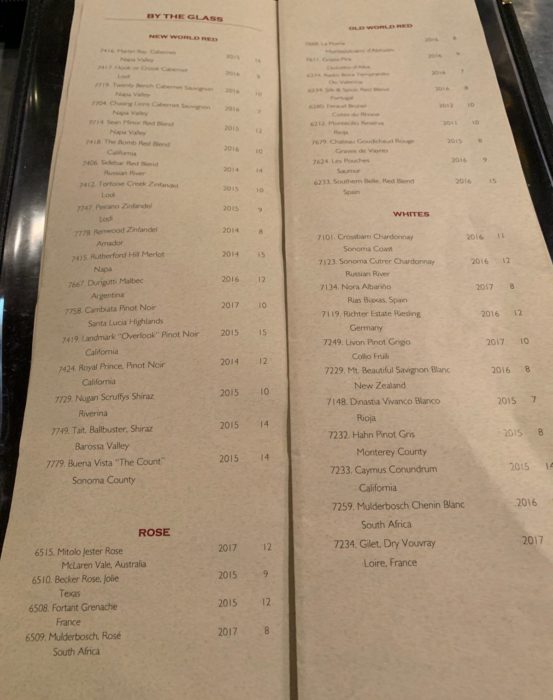 I started with a lovely glass of Tortoise Creek Zinfandel and ordered a margarita pizza. The pizza was the perfect size for one (hungry from travel) and was delicious. The tomatoes and basil we very fresh, the crust crispy, and the mozzarella had a good flavor as well. The bartender was right – the zinfandel was a great pairing choice!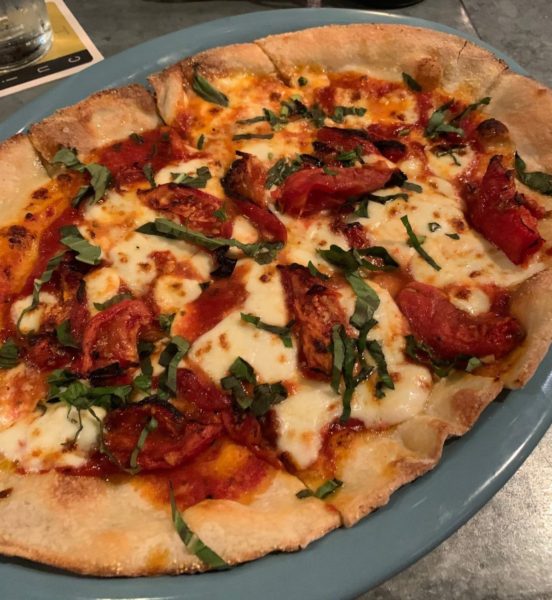 I selected a second glass of wine (again at the recommendation of the bar staff) – Feraud Brunel Cotes du Rhone – that was also good, but not as good as the zinfandel.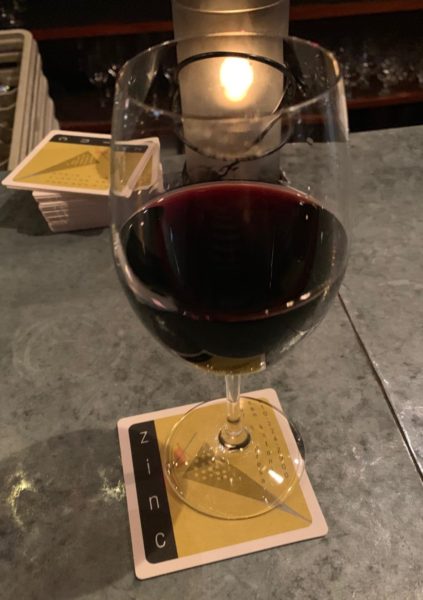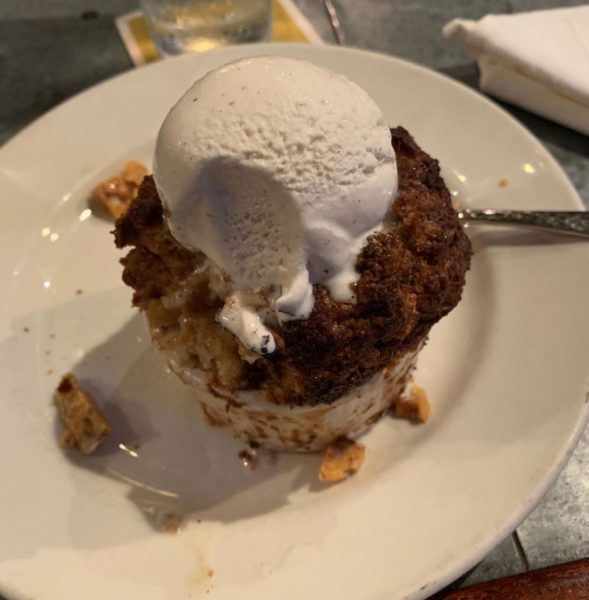 Although I was quite full, every other recommendation of the staff has been spot on, so I just had to try the apple bread pudding. I'm a huge fan of most bread puddings, and this one certainly didn't disappoint! 
It was warm, not too sweet, slightly gooey, and served with excellent vanilla ice cream. I ate the whole thing… and was quite glad I had a few blocks to walk back to my hotel afterward.
245 E Commerce St, San Antonio, TX 78205
Hours:
Sun – Thurs: 10am – 9 pm
Fri: 10am – 11pm
Sat: 10am – 12am
This was quite a popular little place! There were a few other spots to get ice cream or frozen adult beverages, but the line convinced me that this place was worth trying (and my love for ice cream).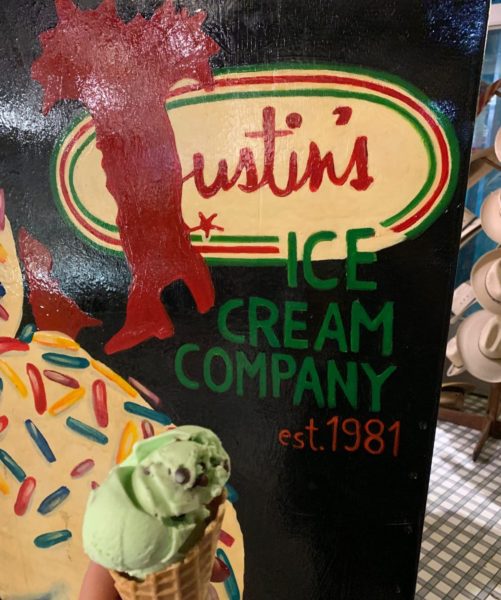 I'd only had some finger foods from a reception thrown for attendees of the conference, so a double scoop in a waffle cone seemed like the right thing to do. There were lots of flavors to choose from: ice creams and sorbets (dairy free).
I always get so excited about the flavors, but then usually just choose between my top two go to flavors: mint chocolate chip or cookie dough. Mint Chocolate Chip won this round! I mean, what better way to compare ice cream shops than to always get the same flavors – right?
This mint chip was great and the waffle cone was fresh and crispy, and it held up to the melting of the double scoop of ice cream while I people watched from a tiny bistro table along the river. Put this on your list of things to do in San Antonio Riverwalk.
420 W. Market St. San Antonio, TX 78205
Hours:
I was looking for somewhere unique for dinner, but it had to be on the river. Most of the restaurants actually on the water where chains… which is fine, but not what I was looking for.  When I arrived and was seated at a table facing the water, I looked at the food on the tables around me and knew I was in for a treat.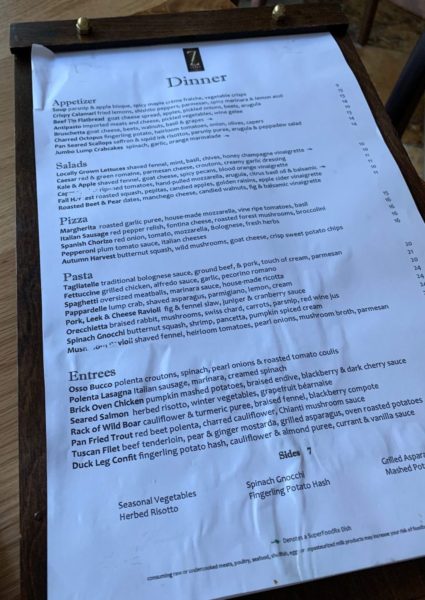 The atmosphere was cozy – not to dark and not too bright (although they did change from day lighting to night lighting while was there and there was a bit some indecision on the right level… but they worked it out). The real highlight though was the view of the river, watching the tour boats go by all lit up.
Again, as seems to be my MO, I ate way too much. I guess I just don't know how to order for one! Their fresh bread was warm and soft, but had a nice crispy crust.  Also, the olive oil and herbs was pretty good quality and had great flavor. I ordered fried calamari as my appetizer and it came with the usual marinara sauce, but also had a really tasty lemon aioli.  That went really well with the Acrobat Pinot Noir I selected first.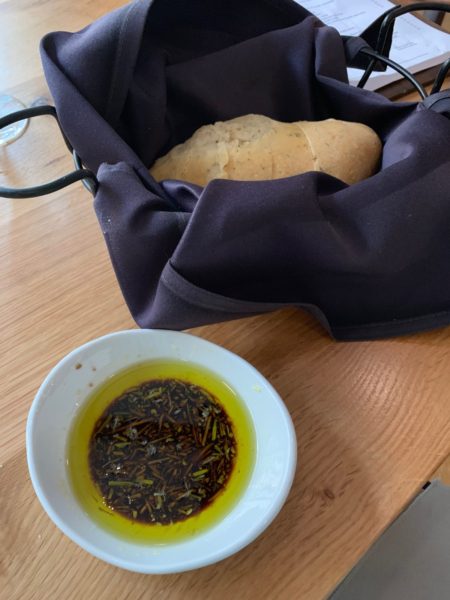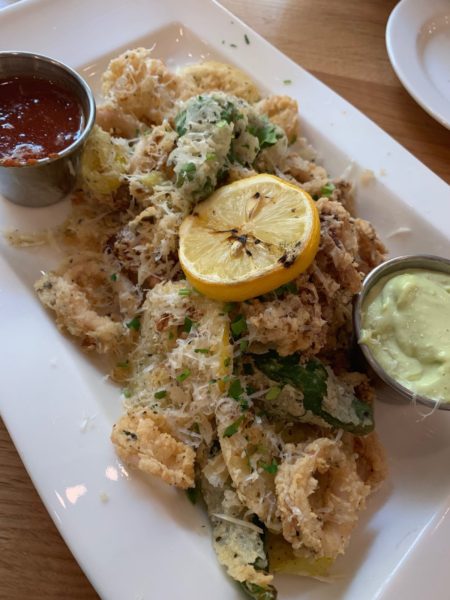 Fettuccine Alfredo is a dish that is hard for me to avoid at an Italian restaurant.  This version came with chicken and spinach (get some greens in somehow!) and was quite good. I tried hard to pace myself and ended up eating most of it. For wine, I stuck with Pinot Noir and ordered a glass of A to Z that was nice with the richness of the Alfredo sauce.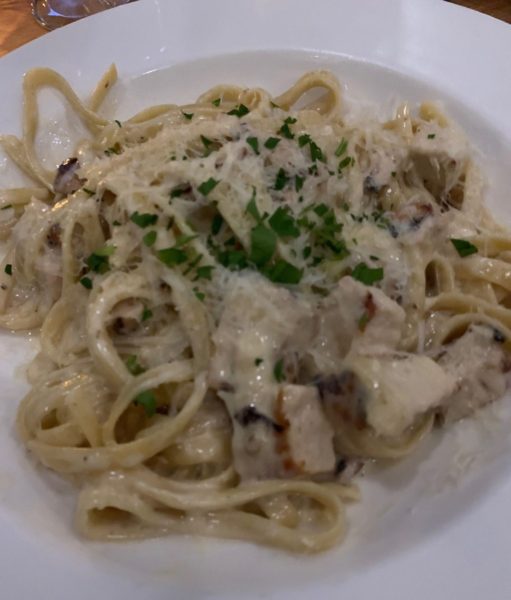 No room for dessert, although I was very tempted by a glass of 20 year tawny port. I wandered along the Riverwalk back to my hotel. It was a lovely evening, not too crowded and comfortably cool. 
Things to do in San Antonio Riverwalk
Riverboat Tour
Company: GO RIO
Cost: $12 adults, $6 children 5 and under
Hours: 9 am – 10 pm departing every 15 min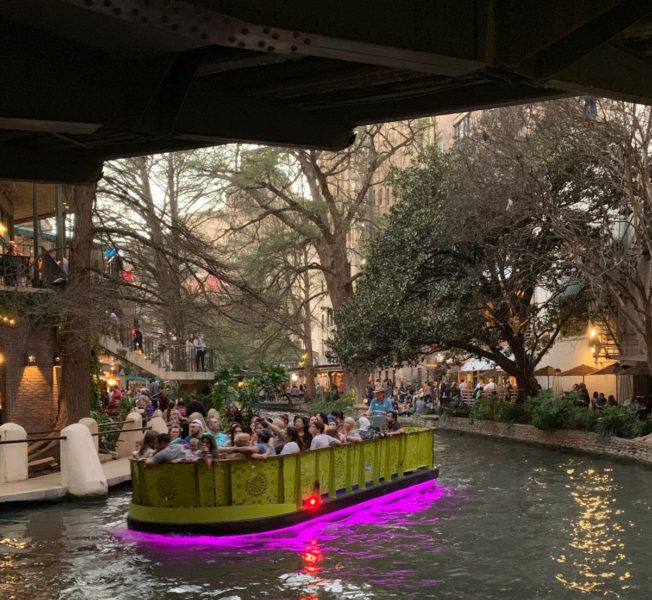 While I can't speak to the lines during the day, if you're wanting to take a tour in the evening, I highly recommend getting in line during the normal dinner time. The lines started to get long around 7pm (when I was out of my conference sessions and headed to a restaurant) and seemed to stay that way until I wandered back to my hotel around 9pm. The week I was there was also the start of spring break, so that may have been a factor with the crowds.
With my jam-packed days, I did not find time to take a tour this trip. But, I plan to come back and visit when I have more free time and it will certainly be on my list of thing to do in San Antonio Riverwalk.
People Watch
Cost: Free!
Hours: 24 hours
There are so many places to grab a drink (adult or otherwise) and grab a table or bench and just watch people. There are a number of hotels of varying price ranges in the area that makes for an eclectic mix of tourists, business travelers like myself, families, locals showing visiting friends around – all kinds of people.
As long as you are on the river level, not the street level, (and are of legal drinking age, feel free to stroll with a beverage in hand. From what I saw, the only rule is no glass containers and stay on the lower level and you'll have no issues. This adds to the fun of people watching and can be a real necessity as the temps rise in the summer months. Add this FREE activity to your list of things to do in San Antonio Riverwalk!
Wander the Area (or run!)
Cost: Free!
Hours: 24 hours
I was training for a half marathon while I was visiting San Antonio and needed to get in a short 2.5 mile training run. I ran in the evening on a Thursday before I went out for dinner. I found it easy to plot out a route and felt completely safe running alone. There were even some interesting things that caught my eye along the way!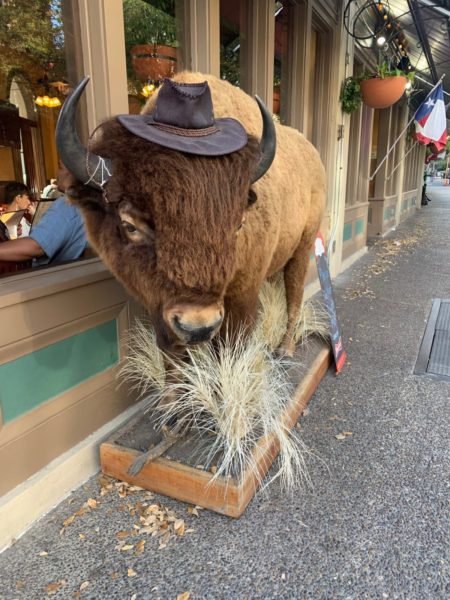 In unfamiliar cities, I often use Map My Run or RunGo to find routes others have run. So if you're looking for a longer route, there are plenty out there already mapped for you! I kind of wish I'd taken this "tour" earlier in my visit. I saw some other shops and restaurants I might have wandered into if I'd realized they were there.
Electric scooters are another amenity you can add to your things to do in San Antonio Riverwalk. While I did not use them during my trip, I can see how they would be a great tool to get to some places a little farther out from the river. Not to mention – they look like fun! I definitely would have considered if I'd had more than just evenings to explore.
There are 3 main electric scooter companies in San Antonio: Lime (the ones I saw the most), Blue Duck, and Bird. All operate similarly. Download the app, find a scooter, scan the QR code, and travel to your destination. Lime charges $1 to unlock and $0.15 per min for your ride.
There are additional rules about where you can ride and where to park. As these transportation methods are relatively new – the rules are continually changing – some places will require a helmet. So, be sure to check before you go so that you don't end up with a ticket!
Visit the Alamo
Entry Fee: Free!
Tours: $7 -$15 pp, discounts for military
Hours:
September 4 – May 24 : 9 am – 5:30 pm
May 25 – September 3 : 9 am – 7 pm
Closed Christmas Day (December 25)
It may surprise you to find that the Alamo, the famous …, is right in downtown San Antonio, not somewhere on the outskirts of town. It's also extremely small.  While very neat to see the history, there really isn't a lot to see.
I personally have not done a tour, or really done more that look at the building and read a sign or two. You don't need to allot very much time in your schedule for this attraction. Guided and audio tours are available and are about an hour long. They even have a tour geared toward kids 12 and under if that fits your travel needs