It is always a good idea to have some staple bottles of wine on hand. You never know when you'll have something to celebrate, a short notice get together, or a rough day at the office. We've put together a list of 10 great wines under $25 to help! At any given time, you can find many of these wines, often more that one bottle, in our wine fridge. Some are common, and some you may not have heard of, but all of them should be easily found in larger wine stores or online.
Not only do we think these wines are great and not too expensive, but for many of them, the wine critics agree. Most of these are rated above 89 points. New to wine and don't know what the ratings really mean or how to use them? Here's the short version:
Understanding the Basics of Wine Ratings
Wines are tasted blind, no labels and no prior knowledge, by wine professionals. The wine is graded on color, aroma, tastes, finish, and overall experience and a score out of 100 is tabulated.
Scores:
95 – 100: Superb or Extraordinary (A+)
90 – 94: Outstanding (A)
85 – 89: Very Good (B+)
Common Professional Ratings:
Wine Enthusiast – Wine magazine that only publishes notes on wines scoring 80 points or better from a panel of wine experts.
Wine Spectator – Similar to Wine Enthusiast, this wine publication reviews wines and scores with a panel of wine experts. Their scores also take into account how good a wine is anticipated to be at peak, even if that is in the distant future.
The Wine Advocate – This wine publication by Robert Parker has been around since 1987 and has over 50,000 Subscribers. He has received countless accolades for his wine critiques. You'll note the wines rated by him are labeled with RP. Other wines rated by his staff will not have this designation.
James Suckling & Wilfred Wong are both wine experts. Wilfred has been in the wine industry for 40+ years and is currently the Chief Storyteller for Wine.com. James is a wine critic who got his start writing for Wine Spectator almost 40 years ago. He currently has a course available on MasterClass.
That being said, it is extremely subjective. As you taste and pay attention to scores, you will probably find that there are some critics you agree with more than others. Use that info to help try other wines that those critics like too! It can help to expand your wine knowledge and collection. Don't know how tasting wine is different from drinking wine? Wine Tasting for Beginners is a great post to teach you the basics.
10 Great Wines Under $25
1. Ritual Pinot Noir – Casablanca Valley Chile
This is my current favorite budget Pinot Noir! I try to have some on hand at all times. I discovered this wine while on a trip to Chile for my International Business class in grad school and have loved it ever since. And well under $25!
Casablanca Valley is quickly becoming a top producing region for Pinot Noir. Veremonte, the vineyard that produces this wine, is dedicated to natural wine making practices to produce their organic wines. It is a gorgeous winery, with a delicious restaurant, and has very informative tours. I highly recommend making the stop if you happen to be traveling to Santiago, Chile. It's not that far of a detour and 100% worth it!
Cost: ~$19
Tasting & Pairing Notes: Ritual is heavy on the berry and cherry aromas and tastes of raspberry and cherry. It has a nice round feel with a lingering finish. A good wineby itself or paired with many meals. I think it's great with lemon salmon and roasted veggies!
Rating: 93 (James Suckling)
2. Primus Carmenere – Colchagua Valley Chile
Another Chilean wine… yes, I have a current obsession with the wines from this country. If you have never tried a Carmenere, you are missing out! Once thought extinct, this is a grape that is currently only grown in Chile. It is similar, in my opinion, to a Cabernet Sauvignon, deep in color and bold in flavor. However, I find the tannins are less and it is thought to be better consumed young. Which means, drink it now!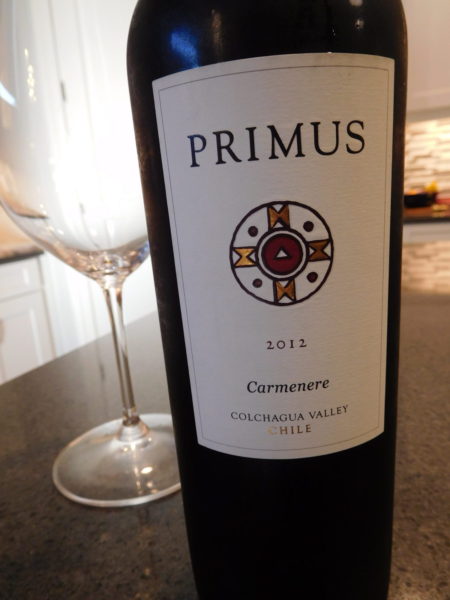 I found this wine on the same trip, at the same vineyard where I found the Ritual Pinot Noir and knew I'd found something special. I have since tried many Carmeneres from different vineyards, and this continues to be my favorite.
Cost: ~$20
Tasting & Pairing Notes: A deep red in color, you get plum and blackberry on the nose with some interesting spices. Cherry flavors are prominent with some spicy undertones and a hint of oak. It is a big, full-bodied wine, however it still has a smooth, silky feel and is very well balanced. It pairs well with hearty pork and steak meals, especially if served with a herbal sauce like chimichurri or pesto.
Rating: 93 (James Suckling)
3. S.A. Prum Essence Riesling – Mosel, Germany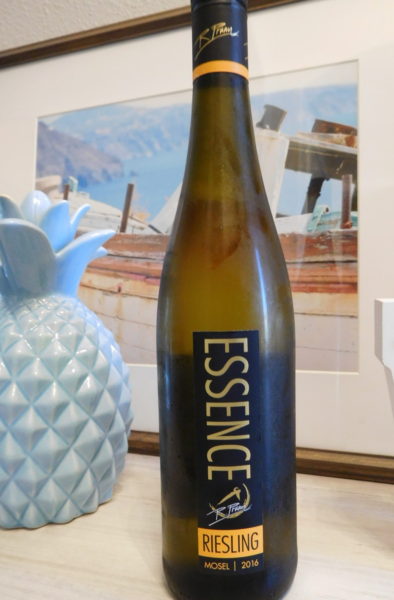 Riesling was the first varietal I really enjoyed when I started drinking wine. It was still sweet enough for me (a sugary cocktail was my goto adult beverage), but also much lighter. I've had many favorite Rieslings over the years, always from Germany, but this one is the current top of the list.
Cost: ~$15
Tasting & Pairing Notes: T

his wine is a pale gold in color and smells of apricots and peaches. It is light and crisp with flavors of pineapple, lemon, and apricot. Not too sweet and not too dry. Perfect for day drinking on the patio or by the pool. Pairs well with spicy foods or seafood.

Rating:

88 (Wine Enthusiast)
4. Zaccagnini Il Vino Dal Tralcetto Montepulciano d'Abruzzo – Abruzzo, Italy
This is one of Travis' favorite table wines. He loves robust wines out of Italy and was quite surprised when we tried this one at a holiday get together. You can easily find it in large wine stores, online, and even Sam's Club. We usually pick up 3 or so at a time to have on hand. It also comes in a cute, rustically designed bottle that can certainly make for an interesting gift!
Cost: ~$15
Tasting & Pairing Notes: This Montepulciano is fruit forward with good plum and berries on the nose. This wine has a medium body with some hints of leather and black pepper. A nice simple finish makes for a well balanced tasting experience, and the subtlety overall allows for a wide variety of pairing options. Don't be shy to have this one with a light lunch of fish, a salad, or even a charcuterie board. The wine stands up to stronger food pairings as well like heavy pasta's with meats or your favorite steak. Good all around bottle at a great value! Put a few in your storage; at 91 points, you can't afford to NOT have a few on hand!
Rating: 91 (James Suckling)
5. La Marca Prosecco – Prosecco, Italy
No list of wines under $25 would be complete without some bubbles! This a great sparking wine that's not too sweet and not too dry. It's commonly available and can even be purchased in 187 ml size which is perfect for a small congratulations gift!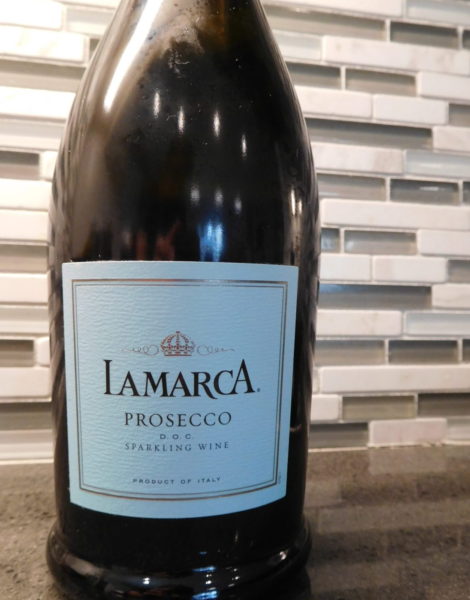 Cost: ~$13
Tasting & Pairing Notes: This crisp, pale straw wine has a delicious flavor of green apple and lemon. It has a citrus nose with hints of flowers. It is great by itself or combined with fruit juices like orange or peach for the perfect brunch cocktail.
Rating:

While this wine is not rated, this sparkling wine is highly rated by consumers and I think it's perfect for its price point and versatility.
6. Erath Pinot Noir – Oregon
This wine has become one of our go-to wines when we can't decide what we want to drink… and consequently, we're all out right now! The balance of the tartness, juiciness, and spiciness are such that it goes well with all types of cuisine. It is on the stronger side for a Pinot, but that suits me just fine.
Cost: ~$17
Tasting & Pairing Notes: When you take a whiff of this lovely smooth wine, you'll smell cherries, bread dough, and maybe a hint of caramel. Cherry is the predominant flavor of this Pinot Noir with some pomegranate a hint of anise. It's a juicy wine with a long finish. Pair this with poultry dishes and with mild cheeses.
Rating:

90 (Wine Spectator & The Wine Advocate)
7. Leese-Fitch Cabernet Sauvignon – California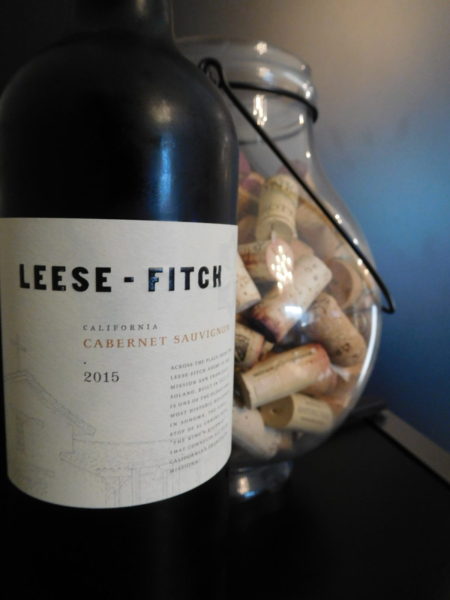 We served this wine at our wedding, so it has a special sentimental value. It was perfect for a warm September day in the north Georgia mountains. We like their Pinot Noir as well, though not as much as this Cab. This is a great wine under $25!!
Cost: ~$12
Tasting & Pairing Notes: Vanilla is one of my favorite hidden flavors in wine, and this one has it. With strong raspberries on the nose and some tart cherries on the tongue, it has a lovely medium-body structure. At our wedding, it paired well with our mac-n-cheese bar complete with all the gourmet choices of pulled BBQ pork mac-n-cheese, buffalo chicken mac-n-cheese, or spinach & artichoke mac-n-cheese.
Rating:

89 (Wilfred Wong)
8. Spellbound Petite Sirah – Napa Valley, CA
Petite Sirah is not a common grape and I first tried this one on a cruise where I had a prepaid beverage package. What did I have to lose by trying something I was not familiar with? Nothing! I was pleasantly surprised at how much I enjoyed the wine, and even more elated when I found the bottle was readily available and not too expensive once returning back home.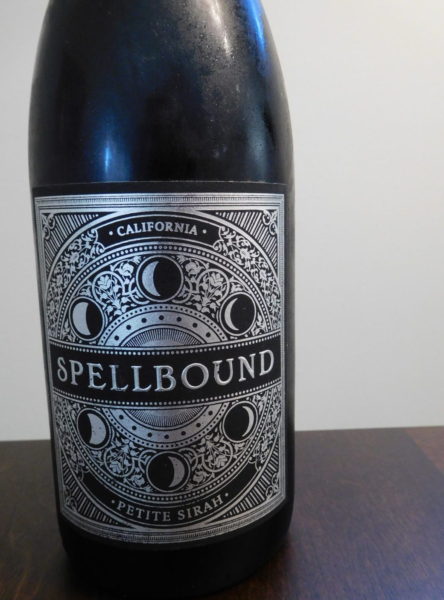 Cost: ~$13
Tasting & Pairing Notes: This is a full-bodied, flavorful wine. It has a deep color and you'll find the flavor of blueberries and blackberries. I even get a hint of vanilla and some oak. It has a velvety, smooth texture.
Rating:

90 (Wilfred Wong)
9. Duckhorn Vineyards Cabernet Sauvignon Decoy – Sonoma, CA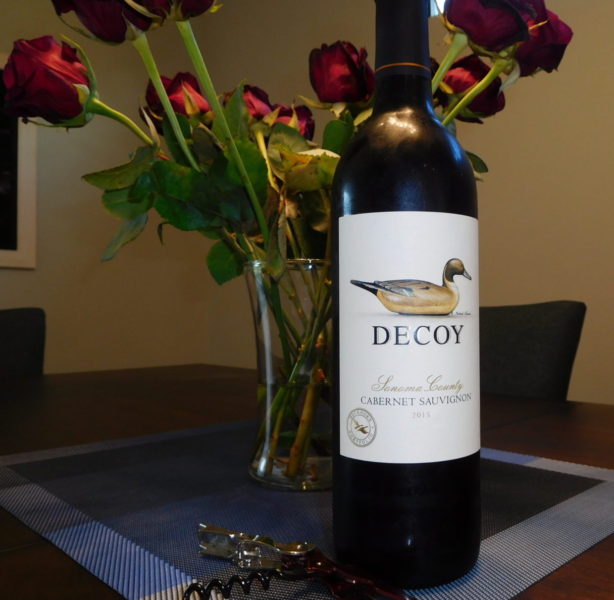 This is a very satisfying Cabernet. It is solid, dependable, and readily available. So, you can grab a bottle anytime you need and just about anywhere. It is an excellent dinner wine.
Cost: ~$22
Tasting & Pairing Notes: Decoy holds up against strong flavored meals such as stews, bolognese pastas, and heavy amounts of garlic. The stronger blackberry, cherry, and herbs on the tongue add a nice acidity to brighten a heavier meal. Watch your serving temperature as this one needs to be slightly chilled and allowed to get plenty of oxygen mixed into it.
Rating:

89 (Wilfred Wong)
10. Kanonkop Kadette – Stellenbosch, South Africa
We were introduced to Kadette by a South African friend and it's been friendly to us! It is a unique blend with Cabernet Sauvignon, Merlot, Cabernet Franc, and Pinotage, a grape we had not hear of or tried before. Pinotage is a relative of the Pinot Noir grape but is closer in appearance and taste to a Shiraz. It came to be when South African growers we trying to create a grape that tasted a good as Pinot Noir, but was better equipped to grow in the South African climate. The berries are very dark and it has very bold tannins.
Cost: ~$20
Tasting & Pairing Notes: Kadette and dark chocolate are meant for each other! The deep ruby color reminds me of a Super Tuscan, but with much more fruit flavors. There is a touch of chocolate that comes through on the nose and a good dry finish. This wine makes for a good red in the summer heat pairing well with sweets, tomatoes, fruits, and lighter meals. If you are not a huge white wine fan, this red blend will give you a great option on the hotter days! Dried fruits and some lighter cheese with a couple Kadette bottles, sign me up!
Rating:

89 (Wine Spectator)
BONUS! (though not quite under $25…)
11. Hess Allomi Cabernet Sauvignon – Napa Valley, CA
Another great value wine from a one of our favorite vineyards in Napa! Hess Collection mostly produces more expensive wines and are not widely distributed. However, Allomi is readily available from this great vineyard. Even at its lower price point compared to typical Hess Collection wines, Allomi is still a top rated wine with a 90+ typical rating!
Cost: ~$28
Tasting & Pairing Notes: Earthy fruit flavors fill the palate and a well balanced acidity helps cutting through strong herbed meals like rosemary and thyme roasted chicken or foods with caramelized onions and garlic. Pricing may vary from vintage to vintage, but if you can splurge just a bit it's well worth it!
Rating:

91 points (James Suckling) 92 points (Wine Enthusiast​

)
So Many More Wines Under $25
There are so many more great wines under $25 out there! This is just the tip of the iceberg. It is a personal goal of mine to continue to expand this list so that I always can have an amazing bottle on hand that does not break the bank.
Which wines under $25 did we miss?!? Most of the wines on our list are red, so I know there are many whites we need to try. Let us know in the comments if we missed your favorite wine, red or white, and we'll add them to our shopping list and let you know what we think.