All you cheese lovers out there, there is a fantastic non-profit called California Cheese Trail devoted to sharing all the ways you can experience great California cheese! With an info packed website, interactive map, and app, you have all the resources you need to plan an amazing, cheese filled adventure.
California Cheese Trail Website
There are 77 Cheesemakers listed on the California Cheese Trail website throughout all of California. SO MUCH CHEESE!!! Each cheesemaker has their own page on the California Cheese Trail site so that you can learn about their cheese offerings, experience types and costs, location and hours, and the history. I'll admit, some of the details offered are a little sparse and I ended up hopping to the main websites of places that sounded interesting for more details.
Some listings are more market than farm and offer other snack and beverage items that might be a great stop on your way to a picnic in a vineyard. Other cheesemakers are by appointment only. Do note that not all businesses listed on the California Cheese Trail are open to the public. However, those that are not do list where you can purchase their cheese from other vendors.
Luckily, to start off your California Cheese Trail planning you can filter by 9 different regions to help narrow down the selections. We were going to be staying in Santa Rosa, so we selected the Napa Sonoma Lake region – there were still 15 options to choose from. There is even an option to pin your selected stop to your itinerary and then open in Google maps! You can also checkout the Events Calendar to see if there are any tours or cheesemaking workshops available.
Don't want to do that much work? Select the Driving Tours button and choose from one of the pre-defined thriving tours – there are 2 loops for Sonoma. We chose to start with one of the options from Loop 1 and then to do the complete Loop 2. Here is all the info for the stops we made.
California Cheese Trail: Sonoma Loop 2 + an Extra
Valley Ford Cheese & Creamery
Our first stop on the California Cheese Trail was the Valley Ford Cheese & Creamery. This was the extra stop from Loop 1 that we made in addition to all of Loop 2. We knew it was a storefront and restaurant but weren't quite sure what to expect. One their website, there isn't much detail about what is offered. Since the were the farthest away, we started out day there.
There was decent parking, but the location did kind of sneak up on us as we were coming over a hill. So make sure you're paying attention or you'll have to turn around like we did.
We stopped here for early lunch and had great grilled cheese sandwiches, a cheese plate, and a couple of beverages! You order in the main shopping room right when you come in. There is seating available in the back room and you can see into the cheese making room through big windows. We were lucky enough to get to watch some of the cheese making while snacking.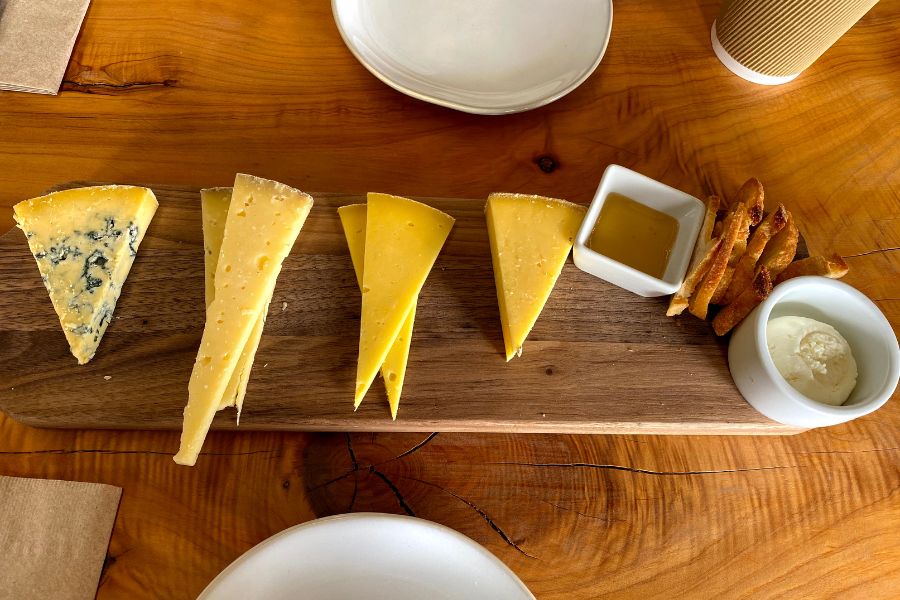 They also have packaged cheeses you can purchase to go along with many other great picnic snacking supplies. Coffee and other beverages are also available in the shop. There is not an opportunity for a tour or real discussion about the making of this cheese. But their website does have a nice story section – also listing the awards the cheeses have won.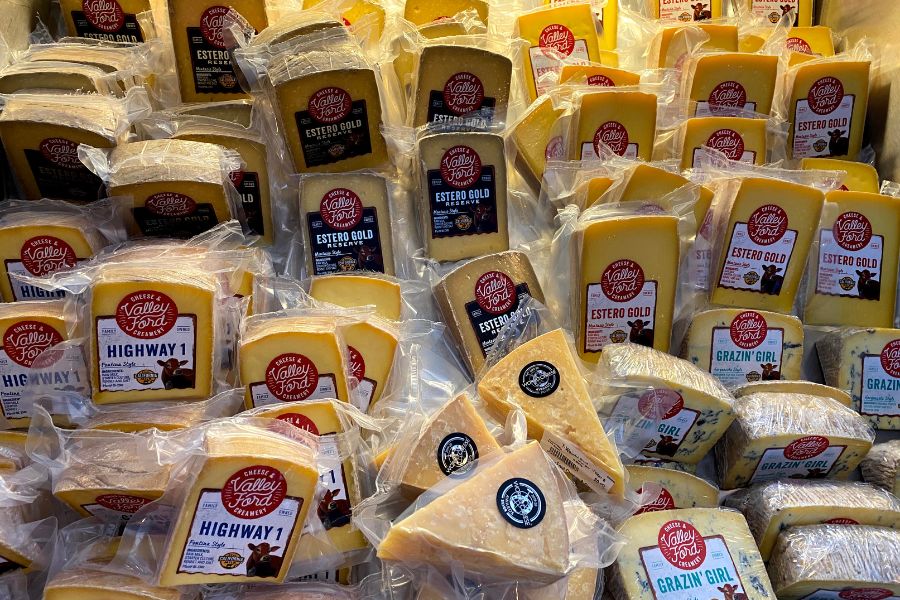 My favorite was the Estero Gold, though the Highway 1 fontina style was also very good – it would probably make a great cheese sauce. I highly recommend stopping in for a sandwich!
Valley Ford Details
Hours: Wednesday to Sunday; 8am – 3pm (4 pm Saturday)
Location: 14390 VALLEY FORD ROAD VALLEY FORD, CA 94972
Cheese Types: Cow
Website: http://www.valleyfordcheese.com/
Bohemian Creamery
Bohemian Creamery was our first stop on the California Cheese Trail: Sonoma Loop 2. Since we were doing the tour, we had to be there before the 1pm start. Be sure to arrive early if you're touring. You will need to go into the shop and pay for your party before the tour starts (no advanced bookings).
Parking was a bit tricky as there isn't much available. You pretty much just park on the side of the road and walk back to the little shop – especially if the tour is busy on the day you go.
You will learn about the places they source their milks, how their process works and get to see the equipment they use. Be sure to wear closed toe shoes! They have you step into a cleaning solution mat (it's shallow, won't get your whole shoe wet). They do make food after all! However, I would not have wanted to step into it in sandals.
The more interesting part to me was the storage rooms. Once the cheese is shaped, depending on what it is, they put the cheese in different rooms with specific humidity levels depending on what type they are making. This is where all the (good) bacteria come in to give the cheeses their special flavors.
After peeking into all the rooms and seeing the various stages of cheese aging, you head back to the processing room for a taste. The selections were vast – I was offered FOURTEEN different cheeses to try. Some I liked, some I did NOT, but all were interesting and totally worth learning about.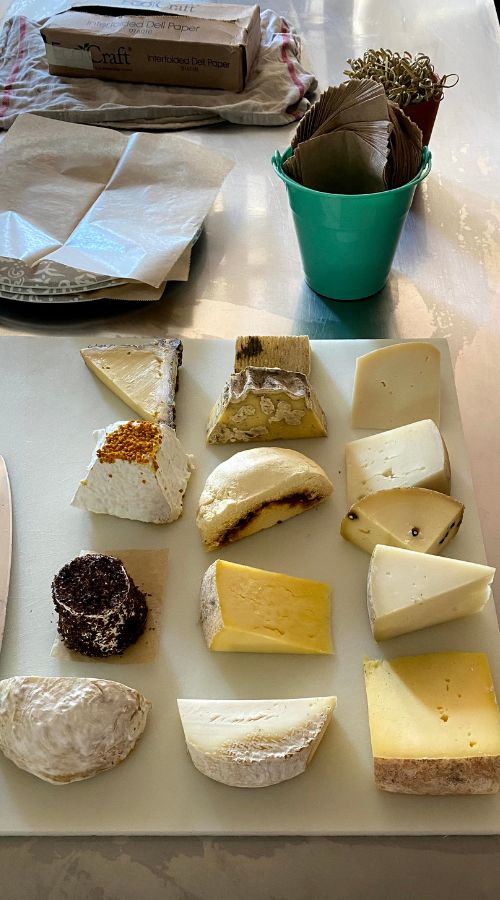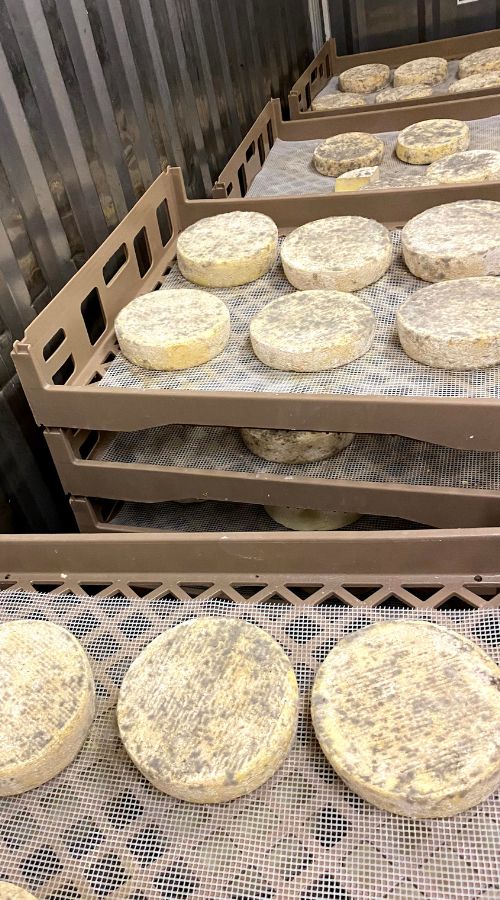 One your way out or if you don't have time for a tour, you can stop at their little counter and purchase cheese to take with you. They offer 3 cheese tastes for FREE. They also offer a tasting plate with all their cheeses for a cost or a picnic pack with 4 cheeses and grilled focaccia or crostini. It could be a great quick stop on your way to a tasting or a picnic spot.
Bohemian Creamery Detials
Hours: Friday to Sunday; 11:00am – 5:00pm
Location: 7380 Occidental Rd Sebastopol CA 95472
Cheese Types: Cow, Goat, Sheep, and Water Buffalo
Website: https://bohemiancreamery.com/
Matos Cheese Factory
Matos Cheese Factory was challenging to find. You kind of feel like you're wandering onto someone's driveway… and I guess you really are. It is a working farm and the drive is a gravel road. We had rented a convertible and were able to make it back to the cheese barn safely, so no worries there. Just go slowly and watch out for the occasional farm animal!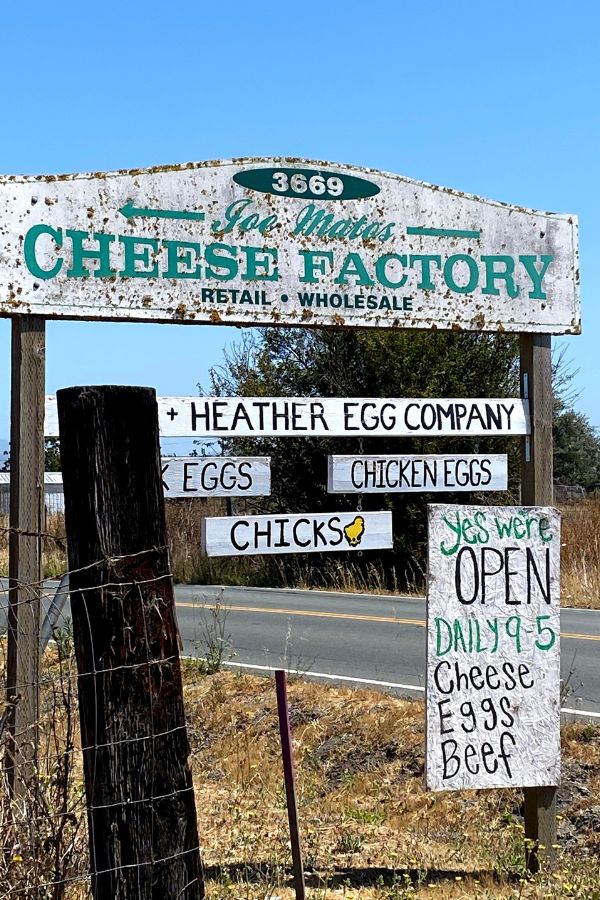 They only make 1 kind of cheese available at 4 different ages. They will offer you a taste of what they have in the case – which may not be all aged options. But you can then purchase blocks to take with you.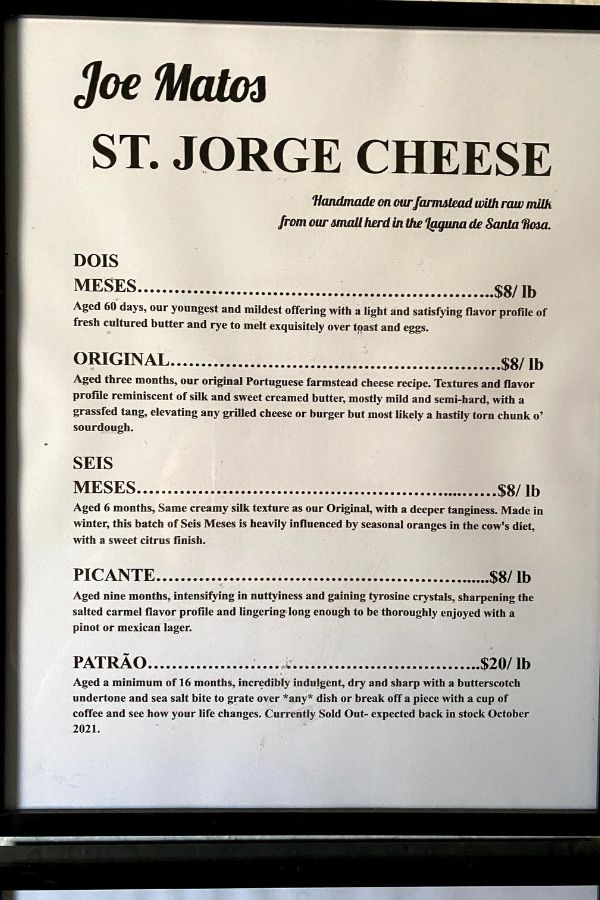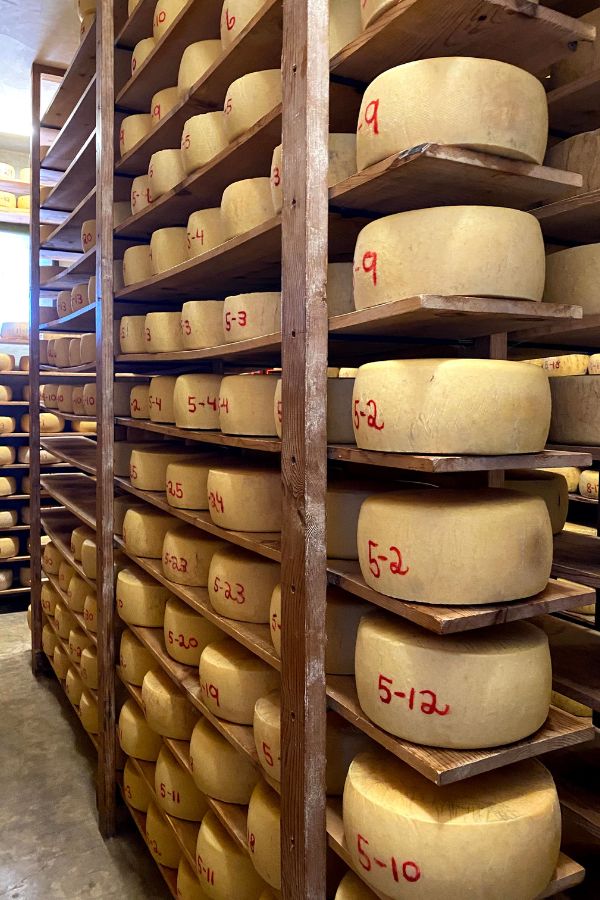 It was really good cheese, but don't expect too much in the way of explanation of the process or what makes THIS cheese so special. For that info, you'll have to check out what they share on their website. If you don't want to drive out to their property just to pick up some cheese, they do partner with many places that may be closer to other activities you have planned. Their list of where to find their cheese for sale is also on their website here.
Matos Details
Wm. Cofield Cheesemakers
This is a cute little cheese shop in a great shopping/eating district in Sebastopol. We wandered by this one after exploring some of the shops (and stopping for pizza, wine and ice cream!) in The Barlow Market.
It's a small storefront, a little bit tucked away in the shopping area. We were offered some free samples and were able to talk to one of the owners about the cheese a bit, as he was manning the shop. We purchased some of their aged cheddar cheese after some free samples to bring with us during some of our later wine tastings.
Since we visited, they have opened a small outdoor area and offer cheese and meat plates of different sizes with a selection of beverages.
While they don't list anywhere else that carries or serves their cheese, if you end up a big fan they do have a cheese club! They'll send you a selection of their cheeses every 3 months: 1lb McKinley Cheddar, 1/2lb Bodega Blue, 1/2lb McKinley Extra Aged, and 1/2lb Willie's fresh cheese curds.
Wm. Cofield Details
Overall ,we really enjoyed this break from wine tasting. The California Cheese Trail is a great resource for anyone looking for new ways to explore California through your tastebuds. I look forward to pulling some of the other stops into future trips when I get to visit other areas in Cali.