In May, I had the opportunity to make my first visit to a winery in the UK, Denbies Wine Estate. I had a trip to Surrey for a wedding weekend and my traveling partner and I had some time for sightseeing. Being from the states, we of course chose to visit Hampton Court Palace, as we don't really have those in Florida. And I really wanted to learn more about this English wine scene I've started to hear more about. With 265 acers under vine, Denbies is the largest wine estate in the country and we just had to visit!
We choose to do an indoor tour and tasting followed by lunch an one of their onsite restaurants. Glad we didn't do the vineyard walk, as it was drizzly that morning! The visit to Denbies Wine Estate was really fun and the tour informative about what choices they're making to produce wine where you might think it's too cold.
Let me share with you the options and details of our visit to Denbies Wine Estate.
Visiting the Estate
Getting There
Denbies Wine Estate is located in Dorking Surrey, just south of London. We hired a car, and other than the challenge of things being backwards from US driving, had an easy time finding the estate and there was ample parking available. Turning off the main road you meander past the rows of vines before making your way to the entrance.
On the Denbies site, they also offer directions by train, bus, and bike. And we saw LOTs of cyclists while we were in Surrey! Train times are about an hour from London, depending on your departing station, and then a 15 minute walk from the Dorking station to the Wine Estate. We also saw some small tour busses bringing in guests.
Denbies Tours & Reservations
There were several options for tours and tastings offered by Denbies. We opted for the Gallery Restaurant Cellar Wine Tasting & Lunch. For 43 GBP, it really was a great value. They also offer indoor only cellar tours, vineyard train tours (the train is more like a tram – not on train tracks) which looked fun but our schedules would not accommodate, and group tours.
I would definitely advise making a tour selection and booking ahead of time. When we arrived at the estate, a couple was trying to hop on to the next tour and they were told they needed to wait until the afternoon for spots to be available. However, there is an art galley on site and there was a small farmers market that day if you did have to wait for a tour.
We chose to book a tour + lunch to ensure that we had a table right after we finished and this was a great idea. It was quite busy in the smaller Gallery restaurant and we had a table waiting for us. It also gave us a chance to try some of the other wines not offered on the tour. But more about lunch later. Next, read about our tasting and tour experience.
Denbies Gallery Restaurant Cellar Wine Tasting & Lunch
The Galley Restaurant Cellar Wine Tasting & Lunch begins in their cinema with a lovely glass of bubbly. The short film shares about the estate and how it has grown and changed over the years. The first vines were planted at Denbies back in 1986! These are much older than I expected. When I think of English wine, I instinctively think it's something new. And I guess if you think about the rest of Europe, it still is. But they have been at it a while at Denbies and have learned a thing or two.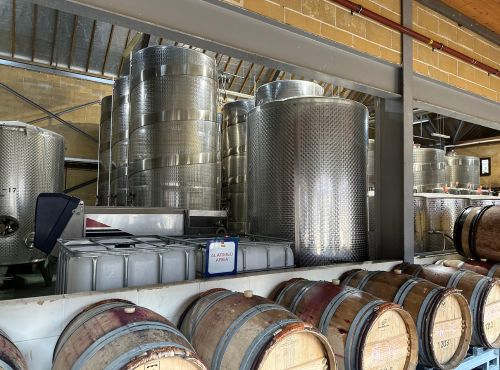 They tour continues through the winery itself, past the stainless steel tanks and oak barrels. Then the tour winds past the bottling line where you are able to see the labels of all the other wineries that they bottle at the estate. They were working that day and it was fun to see the line in action.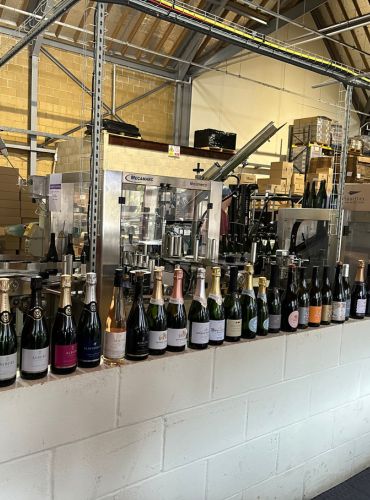 Next, we headed down to the cellar to complete the tasting part of our experience. We tasted 4 wines and we could study a large property map showing where the different varieties of grapes are planted across the estate.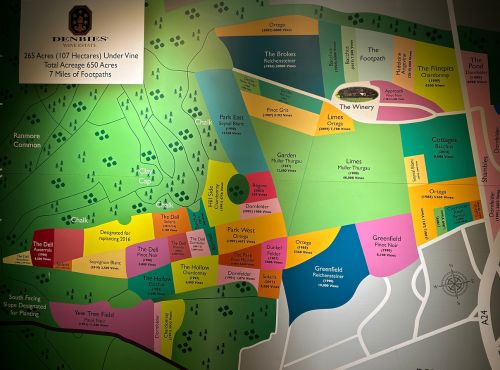 In the cellar, there are also some exquisite carved, oak barrels in this room. They were carved after some local oak trees came down in a storm back in 1987 and have never been used. They depict the steps in the process from vine to wine!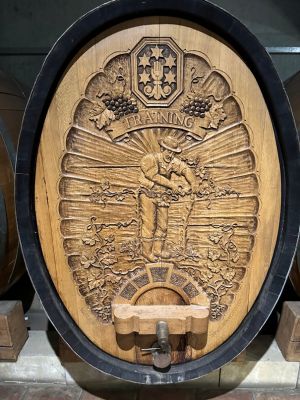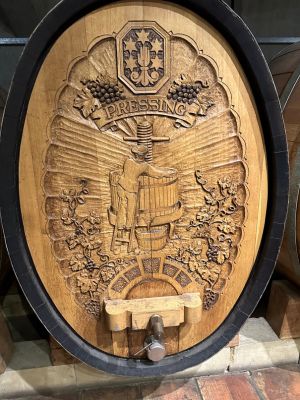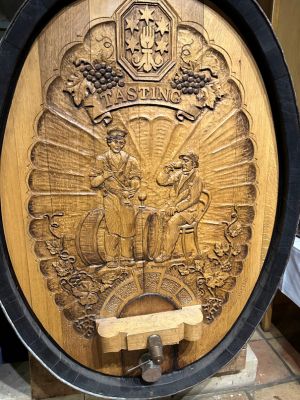 The Denbies Wine Estate Wines
There are 4 wines are featured in the Galley Restaurant Cellar Wine Tasting & Lunch: Greenfields NV English Sparkling Wine, Whitedowns Rose Brut, Surry Gold, and Redlands. All were quite nice, though the sparkling was my favorite. As we tasted, our guide spent time talking about the grape varieties planted. Most of them were German, which makes sense when thinking about the climate, and were things I'd never tried before.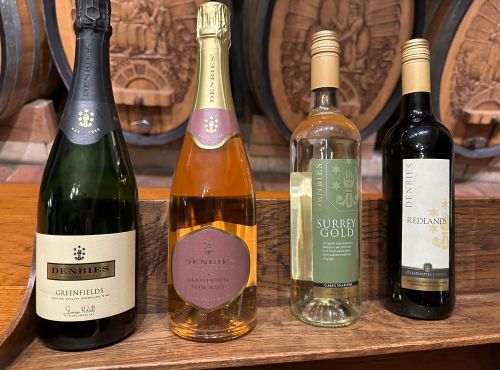 Greefields NV
This is a typical sparkling made from same grapes as Champaign – Pinot Noir, Chardonnay, and Pinot Meunier. The Greenfields NV sparkler is made in the traditional champaign method, You can pick up the strawberry notes from Pinot Noir – being the dominate grape of the blend. Also, it has at least 3 years of lees aging which gives it a yummy brioche note.
Whitedowns Rose Brut
This was a lovely, pale pink, 100% Pinot Noir Sparkling Rose. Another traditional champaign method sparkling wine. These really are where I think this estate excels. You can taste both fresh and dried red fruits in this one. Nice and crisp with acidity, but still smooth.
Surry Gold
I had to do some grape research when I tasted this white. It is made up from varieties I'd never experienced before. Muller Thurgau is the predominate grape and it is supported by Ortega, Bacchus, and Chardonnay in varying quantities depending on the vintage. Lots of stone fruit, peach and apricot, with some honeysuckle notes. This white has some residual sugar, about 18g/l, so be warned if you were expecting a dry wine. This one is definitely off-dry.
Redlands
One of only two reds Denbies Wine Estate makes. This is a Rondo and Pinot Noir blend, which composition varies from vintage to vintage. I'll admit, I had to look up what the Rondo grape was. But, it's a dark skinned, hybrid grape that has a high resistance to frost and mildew – both great attributes for grapes grown in damp England! This wine was full of current, and cranberry flavors with a subtle floral note and just a hint of residual sugar. Definitely best served lightly chilled, it kind of reminded me of a Gamay.
Denbies Wine Estate Lunch
The lunch was a prix fix menu that provided a few options for starters, mains, and dessert. It was complete with pairing guidelines for each selection. While I didn't snap a pic of our menu as it changes frequently, I can say that everything was delicious. The flavors and presentation of each course showed great attention to detail. I chose a wine we had not tasted previously to pair with my leek soup & fish main – the Flint Valley white. It was great as a pairing with seafood and spring vegetables. Again, more grape varieties that were new to me – Seyval Blanc and Reichensteiner. It was crisp and dry with notes of lime and vanilla.
Getting Denbies Wines in the States
Sadly, if you loved these wines and are headed back to the US, you're only option is to purchase and either carry them back with you or ship them yourself. I opted for just a bottle of the Flint Valley to bring home as I had not packed lightly enough to get any other bottles into my suitcase. Maybe one day Denbies Wine Estate will begin distributing in the US, but sadly not at this time.
I love exploring new countries through their wine. Check out my other posts about wineries I've visited in the US and abroad – like this one about wineries to visit in Napa, Ca.