Acrobat Pinot Noir
| Oregon | Rating: |
| --- | --- |
| Cost: $18 (average) | Jess – 4/5 |
| Rating: 90 (Wine Enthusiast) | Travis – NA |
Here is another wine I enjoyed on a business trip to San Antonio, TX. I always try to take the opportunity to explore local favorites when I travel. Zocca in the Westin hotel in the Riverwalk area did not disappoint.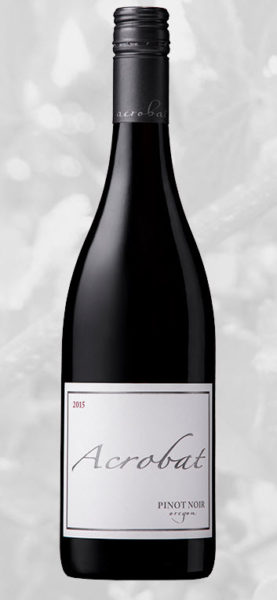 It was a cozy atmosphere and there were lots of tables with views of the river. The wine list did not disappoint either. Since I was planning a meal of seafood and alfredo pasta, a lighter red wine was in order and this one was a great one to start off with.
Winemaker Notes:
Acrobat is life in balance. Acrobat is style and grace. Acrobat is wine born to introduce people to the drinkability and deliciousness of Pinot Noir. Responsibly grown in the breathtaking hills and valleys of Western Oregon, this wine is excellent with food and equally enjoyable on its own.
~ Acrobat Oregon Wines
Wine Notes:
Winery: Acrobat Oregon Winery
Alcohol: 13.5%
Varietal/Blend: Pinot Noir
Fermenting/Aging: 6 months French in oak
Tasting Notes:
This bright ruby wine is very aromatic with aromas of red fruits and cherry. It was on the tart side and reminded me of a cherry pie – the tart cherries, vanilla, and other spices. The finish was very light and satisfying, not to dry.
This wine pared very well with fried calamari I ordered. The fruit-forward flavors complemented the lemon aioli that was served with the calamari. I could see myself pulling out a bottle of this wine this summer with some BBQ fish and a fresh fruit salad.
The Pinot Gris from Acrobat also made #1 on Wine Enthusiast's 2016 Top 100 list and Fortune's list of Best wines under $15. I'm going to have to give that one a try too for a later wine down wednesday post!
Click the label to buy now!
Are you looking for other moderately priced great wines? Check out our list of great wines under $25!
What do you think of this Pinot Noir?
Or do you have another favorite you think we should try for another Wine Down Wednesday!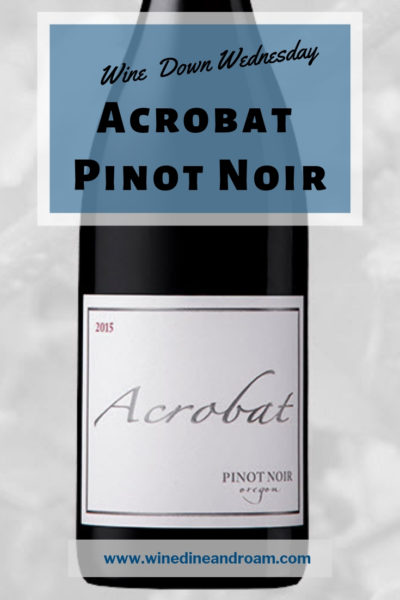 Other Wine Down Wednesday posts you may like…