Zotovich Z Cuvée Chardonnay 2015
| Santa Rita Hills, CA | Rating: |
| --- | --- |
| Cost: $45 | Jess – 3.5/5 |
| Rating: NA | Travis – NA |
We just got back from a lovey trip to the Central Coast to visit my brother and his wife. While we were there, we set out to explore an unfamiliar wine region. It was an amazing trip!! The Zotovich Z Cuvée Chardonnay was just one of our unexpected finds!
We had an amazing experience during our tasting with general manager. I highly recommend getting there early. You might be lucky enough to have the place to yourselves like we did! We were able to taste back and forth between wines, compare them, and discover new layers with each sip. Since neither of us ever really like chardonnay, this was quite a surprise.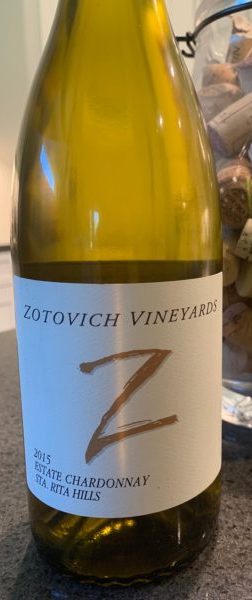 Winemaker Notes:
"The 809 clone is unique to our vineyard. It is a Muscat/Chardonnay clone. The owner, Steve Zotovich, chose this clone to make a richer style of Chardonnay while still honoring the cool climate influence that impacts the vineyard. In 2015, he chose to make one for our reserve line: "Z". This line is our first barrel picks; the ones we think show truly what the vineyard is capable of achieving. "
~ Zotovich Wines
Wine Notes:
Winery:
Alcohol: 14%
Varietal/Blend: 100% Clone 809 Chardonnay
Fermenting/Aging: 20 months in 100% French oak (35% new)
Tasting Notes:
Medium gold color with aromas of apple, lemon-lime, and other tropical fruits. This is a softer wine, though still with a nice acidity. Similar fruits on the the palate, but with a sort of salty, brininess in the finish that is characteristic of the coastal nature of the vineyard.
Both Travis and I were highly impressed with this chardonnay. In the past, we have both been put off by the over buttery flavors one normally thinks of from typical Napa Valley chardonnays.
The cooler climate of the Santa Rita Hills and it's proximity to the ocean give the grapes some unique growing conditions and these impart unique flavors to the wine.
We truly loved most of what we tasted and even joined the wine club! Look out for more on this vineyard, as we feel it's truly special!!
Click the label to buy now!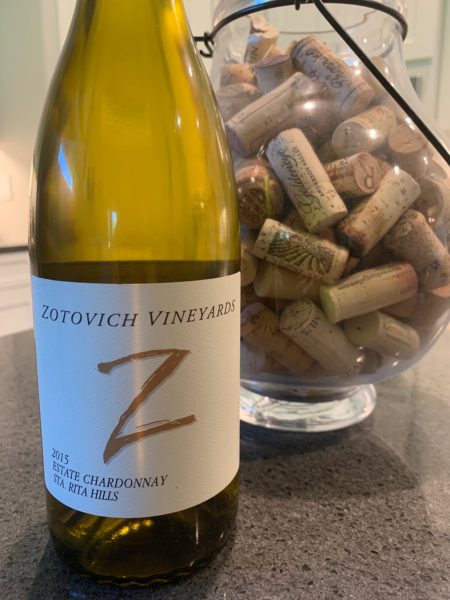 Do you have a favorite wine that you think we should try for Wine Down Wednesday?
Let us know!
Are you looking for more moderately priced great wines? Check out our list of great wines under $25!​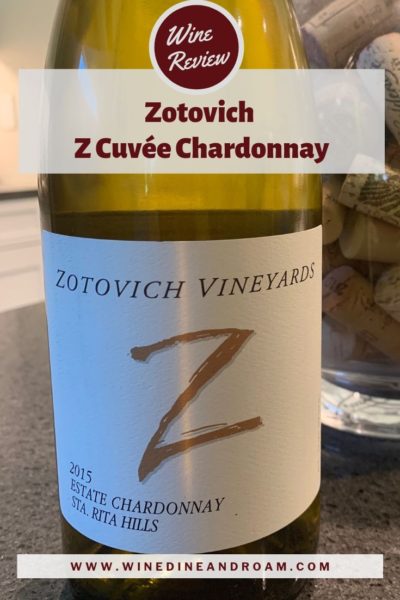 Other Wine Down Wednesday posts you may like…