Robert Mondavi Fume Blanc 2015
| Napa Valley, CA | Rating: |
| --- | --- |
| Cost: $22 (2017 vintage) | Jess – 2/5 |
| Rating: 90 (Wine Enthusiast) | Travis -3/5 |
I will confess that I am not very knowledgeable when it comes to white wines. I am just starting to explore them and figure out what contributes to their flavor profiles. Chardonnay, Sauvignon Blanc, Pinot Grigio, Fume Blanc, and so many others.

Before trying this wine, I wasn't even sure what a Fume Blanc was! If you don't know either, it is a Sauvignon Blanc that has spent at least some time being aged in oak. However, this is not a legal distinction and can be used by winemakers interchangeably with Sauvignon Blanc.
It was actually Mondavi himself that first tried aging this grape in oak and gave it its name. He never registered it with a trademark so other winemakers could use the name Fume Blanc.
Winemaker Notes:
This crisp, refreshing wine captures the vivid character of Napa Valley Sauvignon Blanc and exhibits bright citrus, melon, floral, and mineral notes.
~ Robert Mondavi Wines
Wine Notes:
Winery: Robert Mondavi
Alcohol: 14.5%
Varietal/Blend: 96% Sauvignon Blanc, 4% Semillon
Fermenting/Aging: 6 months in oak
Tasting Notes:
Very thin wine compared to the others we were drinking and it was also pretty acidic. It was very light aromas on the nose. Light pale straw with lemongrass, grapefruit, and a bit of bitterness – maybe citrus peel? Very mineral flavors in the long finish.
So far, I have not been a fan of any oaked white wines, including this Fume Blanc. At least not that I'm aware of… but I have only really had 3 since I have really started focusing on learning more about all types of wine.
This wine is quite popular and gets amazing ratings – it's just not for me.
Click the label to buy now!
Are you looking for other moderately priced great wines? Check out our list of great wines under $25!
Tell me what you think about Fume Blanc!
Or do you have another favorite you think we should try for another Wine Down Wednesday!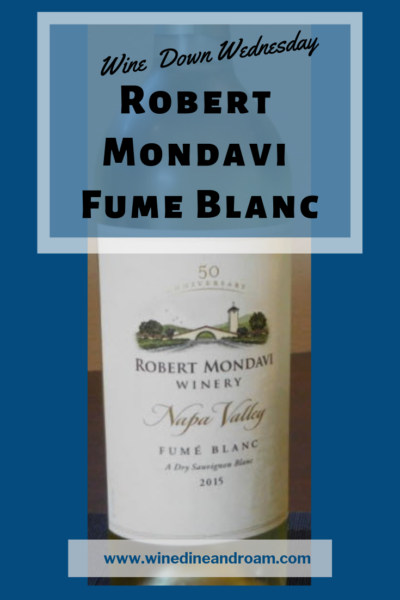 Other Wine Down Wednesday posts you may like…