Justin Cabernet Sauvignon
| Paso Robles, CA | Rating: |
| --- | --- |
| Cost: ~ $28 | Jess – 4/5 |
| Rating: | Travis – NA |
I don't remember the first time that I tried this wine. However, it has been one that a gravitate to when I see it on a menu while dining out. It has such a great balance that I don't worry about whether or not it will pair well with my meal. It always does!

This also makes a fantastic gift wine! I have both given and received a bottle of Justin Cabernet and it's always a solid choice. So solid, that they are celebrating 30 years of crafting this wine.
Winemaker Notes:
"With attractive aromas of black fruit and spice, this smooth, ready to drink Cabernet Sauvignon is made with the same care as the highest quality, traditionally crafted Bordeaux styled wines. Our grapes are hand-picked and sorted by the berry for consistent quality and flavor."
~ Justin Vineyards & Winery
Wine Notes:
Winery: Justin Vineyards & Winery
Alcohol: 14.0%
Varietal/Blend: 100% Cabernet Sauvignon
Fermenting/Aging: 14 months in American oak (25% new)
Tasting Notes:
The deep purple of this wine is just beautiful. Lots of cherry and berry aromas with a hint of coco other baking spices. Medium bodied, though pushing to toward full. The flavors on the palate are similar to the nose with the addition of strawberry and some oak and vanilla. Longer finish full of baking spices.
I always enjoy this wine with pasta with a nice tomato sauce – like a Bolognese or with pizza! I bet it would go great with some juicy burgers as well.
Since it has never disappointed, this is often a wine that I gravitate to when I see it on a restaurant menu.
​
Click the label to buy now!
Are you looking for other moderately priced great wines? Check out our list of great wines under $25!
Tell me what you think about this Cabernet!
Or do you have another favorite you think we should try for another Wine Down Wednesday!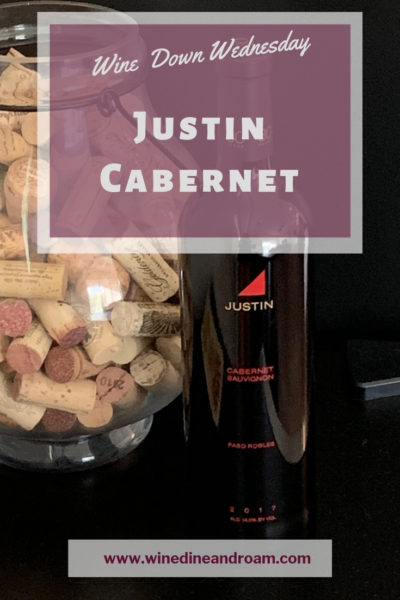 Other Wine Down Wednesday posts you may like…