Inglenook Zinfandel '77
| Napa Valley, CA | Rating: |
| --- | --- |
| Cost: ~$50 if you can find it | Jess – 3/5 |
| Rating: NA | Travis -4/5 |
The selection of the 1977 Inglenook Zinfandel fulfilled a wine bucket list for me. I have always wanted to find a wine from my birth year. I finally had that opportunity when I saw this on the list at Bern's Steakhouse in Tampa, FL.
First off, Bern's has the largest privately held wine collection in North America, maybe even the world! So if anyone was going to have a bottle of '77 in good enough shape to drink, it was going to be Berns!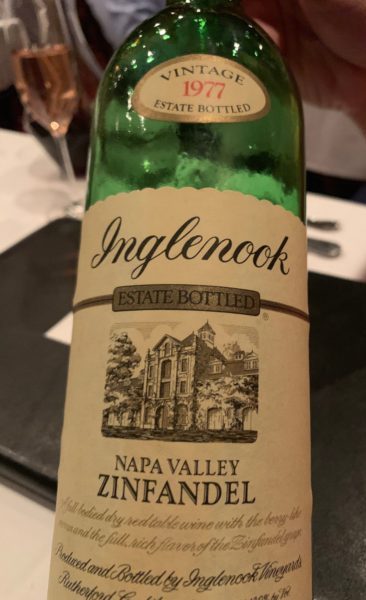 Currently the estate is owned by the Coppola family, purchased in 1975. But it is unclear who the winemaker was in '77. There is quite an interesting history around this winery. Check it out on the Inglenook website.
Winemaker Notes:
"A full bodied dry red table wine with the berry-like aroma and the full, rich flavor of the Zinfandel grape. "
~ Inglenook Estates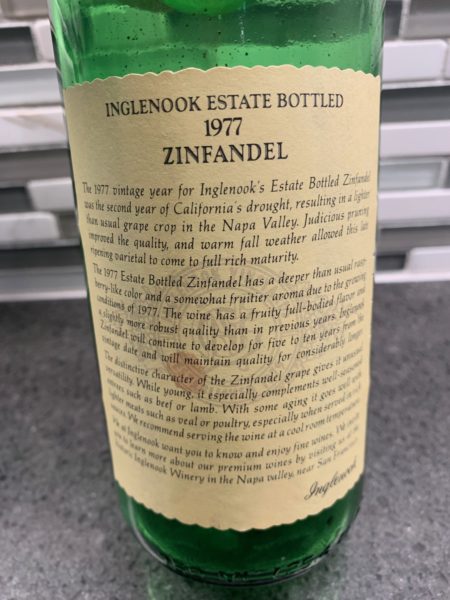 Wine Notes:
Winery: Inglenook Estates
Alcohol: 13%
Varietal/Blend: Zinfandel
Fermenting/Aging: unknown/ approx. 40 yrs in the bottle
Tasting Notes:
Full body with very floral aromas with hints of dark fruit. Tawny-red in color due to its age with flavors of sweet tobacco, leather, dark fruits, and a hit of cherry. Lingering flavor of the tobacco and other floral notes
The Inglenook Zinfandel was excellent with a heavy tannin sediment indicative of older wines. Its cork was well soaked, evidence that the seal had held all those years with the bottle stored on its side. After our server carefully decanted the wine to avoid the sediment, it was time for the first taste. I was so excited!
The nose was floral and had a strong scent of earthy smoke. My first sip surprised me, and it wasn't until the next that I really identified the strong sweet tobacco and leather with just a hint of dark fruits and cherries. It was a shock to my palate to find such a presence of sweet tobacco, almost like a flavored pipe tobacco. The Inglenook Zinfandel was so unique and different.
It paired perfectly with the rich dinner of steak and potatoes. This wine certainly needs a heavy meal to stand up to the robust flavors of the wine.
In trying this wine, it gave me high hopes for aging some Zinfandel in my own cellar! Zin Goals!!
Check out the current varitals & vintages!
Are you looking for more moderately priced great wines? Check out our list of great wines under $25!
Have another favorite you think we should try for another Wine Down Wednesday? Let us know!!
Like this review? Pin it!!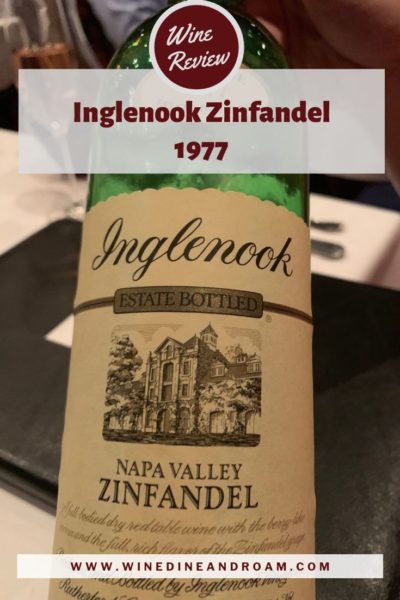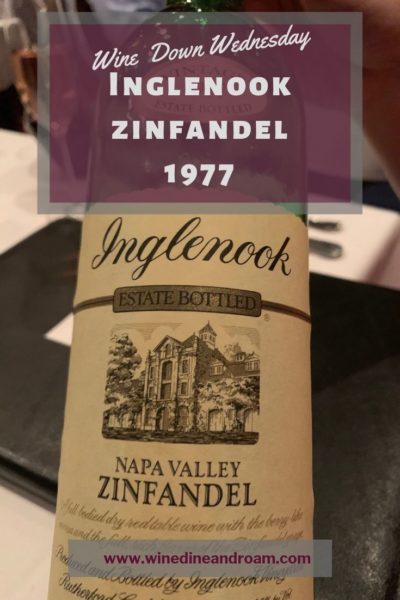 Other Wine Down Wednesday posts you may like…