Visiting Wineries in Napa is amazing!
This post contains affiliate links. That means that if you buy something through these links, I may earn a commission.
I love Napa Valley wine, and with so many wineries, brands, and varieties it can be overwhelming to make decisions! What do I like? Where do I go? What vineyards should I visit? All good questions, and all of them is the answer!
In reality, visiting and trying all the options is not practical. So below, is a list of my top wineries to get you started on your adventure through Napa Valley, California. When you plan your trip, make time to check out these viticultural wonders!
Beaulieu Vineyard
This was our favorite vineyard on our trip, safely in my top five! It's great wine, and the tour is well worth your time! BV is one of the older vineyard groups in California, producing a sizeable range of varietals in price points for all budgets. They consistently produce top rated reserve wines and are not limited to just estate access. You can find BV wines in many restaurants and wine shops all over the U.S.
We also chose to take the tour through the production facility while we were in Napa. It was very interesting to learn about BV's history as one of the few vineyards that survived prohibition by being contracted to make communion wine for the church!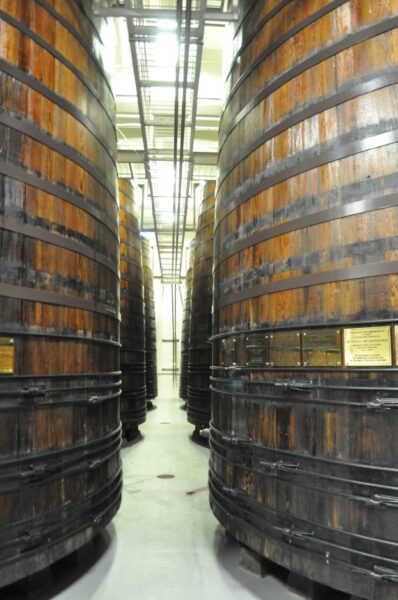 It was the first wine club we decided to join, and we still chase down deals on bottles when we can find them. As a result of it's quality and price point, it's become a staple in our cellar. The reserve wines are well worth the money, and so far everything in our cellar has aged really well!
Artesa
If you enjoy modern architecture and design, Artesa is for you. The tasting room sits high on a hill overlooking several vineyards and other farm land boasting a grand fountain and staircase leading up to the tasting room.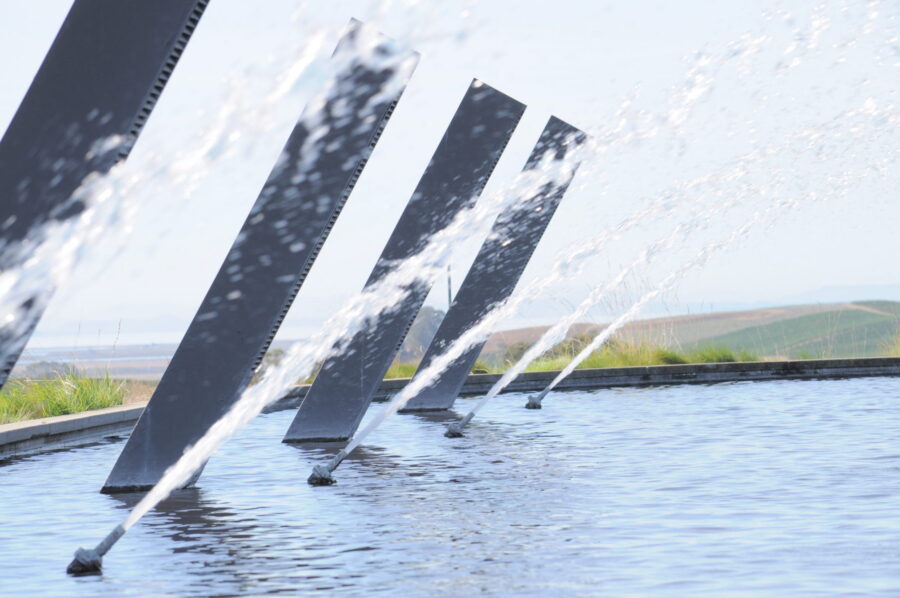 But it's not all about the aesthetics as the wine is excellent. There are reds that should age well and some really different blends. What I recommend most is their estate wine. If you can find a 2011 Tempranillo that has been stored correctly, grab it! I really loved a special edition Gran Reserva Brut Rose and bought several to save as a special wine for our upcoming wedding.
The Hess Collection
This winery, located on Mt. Veeder, has an amazing collection of modern art and a food pairing / tasting experience like no other. You cannot afford to miss this one! Don't be intimidated if you're new to wine tasting. Check out our wine tasting for beginners post to learn how to become a pro in no time!
The grounds are beautiful outside the tasting room with plenty of seating and a bar where you can purchase a glass or two and sip while enjoying the garden.
The art collection is unique and larger than I had expected. It is very modern, and there was a lot that Jess didn't really understand. There is a daily, docent lead museum walk you can elect for a more complete experience.
We did their Tour of the Palate experience, which offered a small group food pairing with selected wines. Small really means small. In our group, there was only one other couple – so a total of 4 + our docert.
Our docent was extremely knowledgeable, not only about the art, but why each piece was selected by Mr. Hess to be a part of the collection. She was also very good at asking questions that encouraged us to interact with the other couple, creating a comfortable, familiar atmosphere.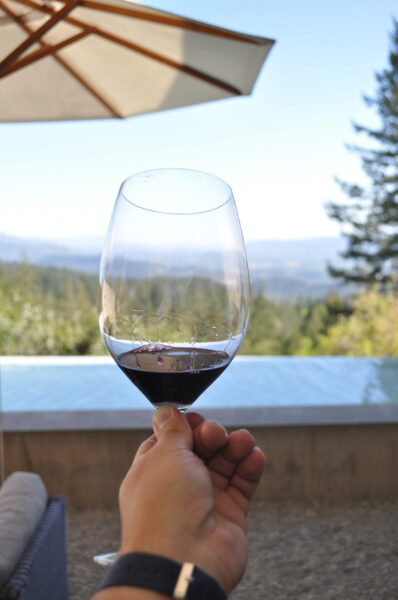 The tasting was served in an elegant private library. There were several selections of wine and bite size food pairings prepared by their full time chef. The docent participated in the tasting with us and expertly guided us through what to pair with each wine. She offered unique suggestions that really allowed us to taste the complexities of the wine. It was absolutely delicious.
What really sets Hess apart is the wine! Their estate wines are excellent and moderately priced, and even their Allomi blend which is readily available in your local wine store or grocery, makes a great everyday drinker! I suggest joining the wine club to get access to some of the reserve wines and better vintages.
Frog's Leap
Another great winery that was not even on our list, is Frog's leap. We just happened to stop and and see if they had a tasting available. They do take reservations, but we didn't end up needing one. We chose the Signature Seated Tasting and got a table on their large porch overlooking the garden. It was incredibly relaxing, compared to some of the busier, more crowded tasting rooms.
Frog's Leap has a fantastic sustainable farming approach and commitment! These guys are over on the Silverado Trail and play host, not only to a beautiful irrigation free vineyard, but also an active vegetable, herb, and floral garden. T
hey are fully committed to sustainable viticulture and produce the best (in my opinion) Zinfandel in the valley. I always have a few bottles on hand. Spend some time here, you will not be disappointed!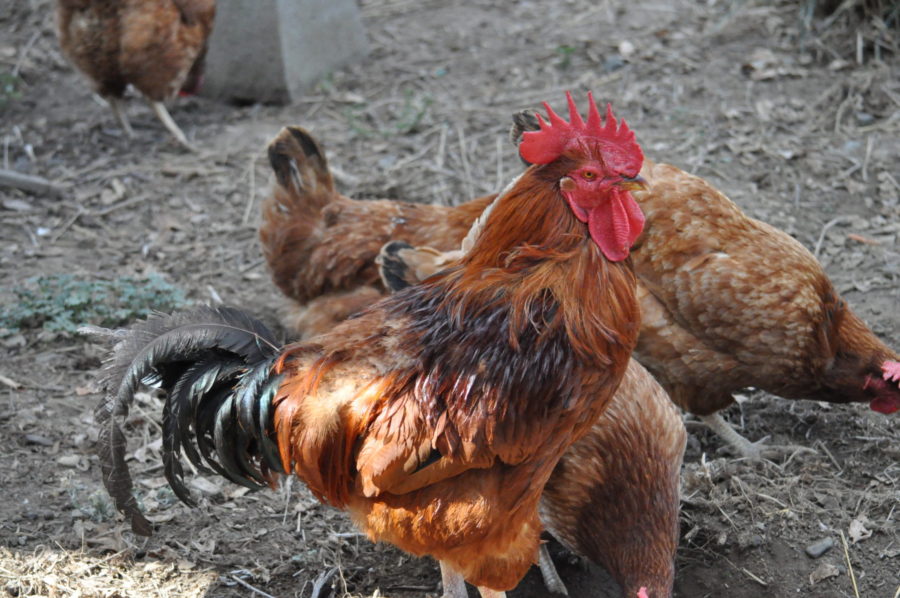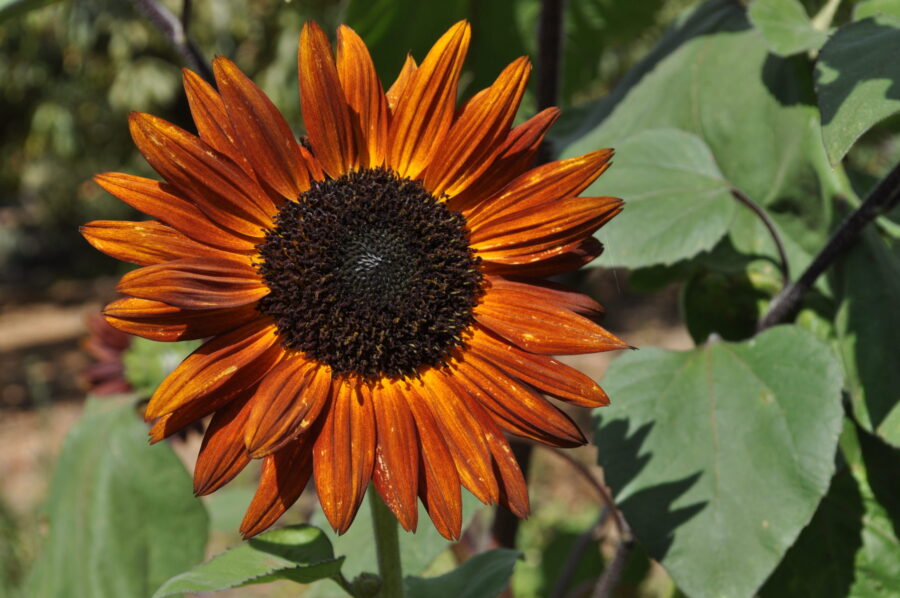 Domaine Chandon
This one made this list because it offers sparkling wine! Not many places in Napa Valley are producing sparkling wine, so if you are a fan, Chandon is not to pass up.
It also made our list because they partner with a local balloon ride vendor, Napa Valley Balloons, to host a brunch and sparkling wine toast following your elevated ride over the valley. To take advantage of this experience you sacrifice some early morning sleep, but you won't get a better view of the valley or brunch experience.
Although we were there before it opened for the day so did not experience it during regular business hours, Chandon has a large tasting room and some wonderful paths through the grounds.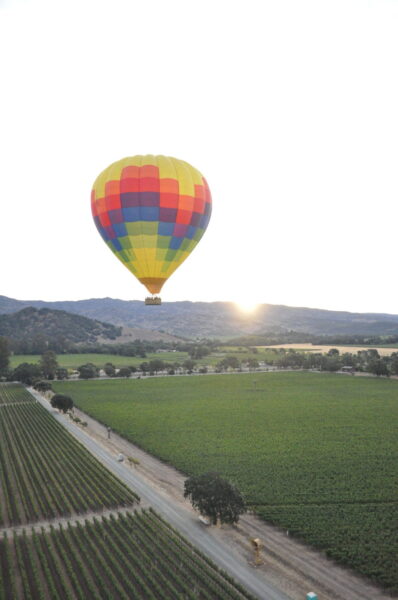 Many More Wineries in Napa
There are a ton of wineries and varietals to try throughout Napa, and your tastes may very well be different than mine. I encourage you to venture in any direction you choose. You'll be greeted by plenty of friendly people with similar interests and a passion for wine. Take your time and plenty of notes! I have no doubt you'll be hooked and back to visit Napa again. There is so much to explore, each trip can take you in new directions in your wine journey!
If you are worried about driving, there are plenty of private tour drivers, shuttles, and of course rideshare drivers to get you to your next destination safely.
Drink up, and enjoy responsibly! Don't forget to share all the wonderful wines you discover with your friends when you back home and host a wine tasting of your own!