Let me start by saying that 4 full days of exploring this wine region is in NO WAY enough time to explore all Central Coast Wine Country of California has to offer. There is so much to do that it was quite difficult to narrow down our list. That being said, I think that we were able to craft a great itinerary for the short time we were visiting.
Since wine is our passion, obviously keeping that as the main theme helped to focus our research. Next, we decided on a plan that would allow us to see a small bit of everything. There are a number of smaller growing areas within the Central Coast Wine Country that all have very distinct differences in their wine. We also left some of our time unplanned in the event that we were told of something that we felt we couldn't pass up.
Here is the itinerary we followed for and overview of the Central Coast Wine Country.
Day 0: Arrival, First taste, and Getting to our Accommodations
We were fortunate enough to be able to stay with my brother and sister-in-law in Buellton, CA. Though we can't speak to specific accommodations that you might seek out, I can say that Buellton was an amazing hub for our trip.
Buellton is right in the middle of amazing wine country and has gorgeous mountain views. Solvang, Los Olivos, and Lompoc are all very close. Even Santa Barbara is only a 45 min drive.
We flew into LAX, rented a convertible, and started a relaxing and beautiful 3ish hour drive up the PCH and 101 to Buellton.
On our way to my brothers house, we just couldn't wait and had to stop for our first wine tasting. So, we stopped in Santa Barbara at Jauffers.
Jauffers
819 E. Montecito St.
Santa Barbara, CA 
Hours: 11am – 5pm Daily
This small wine operation was recommended to us by our friends that we share wine with the most.
Not only was it recommended, but they asked for us to pick them up a few bottles, so of course we had to stop in! They have a tasting bar right in their production & storage facility.
It can be difficult to find and to find parking since this winery is in downtown Santa Barbara. They have a small parking lot, but most is street parking. They day we came they were doing a good pit of shuffling, so we had to find parking on the street around the corner.
Jauffers buys their fruit from the vineyards in the surrounding area and produces small lots (only about 5000 cases each year) of Rhone varietal wine: Syrah, Grenache, Petite Syrah, Mourvèdre, Viognier, Roussanne, and Grenache Blanc.
It was really neat to watch them work on production while we were wine tasting. My favorite that we tasted that day was the Viognier – which was one of the bottles, along with a Grenache, that we brought back for our friends.
After arriving at my brothers house and settling in, we headed out to the #1 restaurant on my "must eat" – Industrial Eats. Fortunately for us since we were HUNGRY, it was just around the corner from their house in a re-purposed warehouse that it shares with a winery and tasting room.
Industrial Eats
I had read up on Industrial Eats and more or less knew what I wanted before I got there. From the blogs and reviews, everyone said their sandwiches & other entrees were good, but they absolutely raved about their pizzas.!
181 Industrial Way
Buellton, CA 93427
Hours: 10am – 9pm Daily
Actually, we each ordered a different type of pizza (there were 10 or so options to choose from) so we had 4 different ones to try!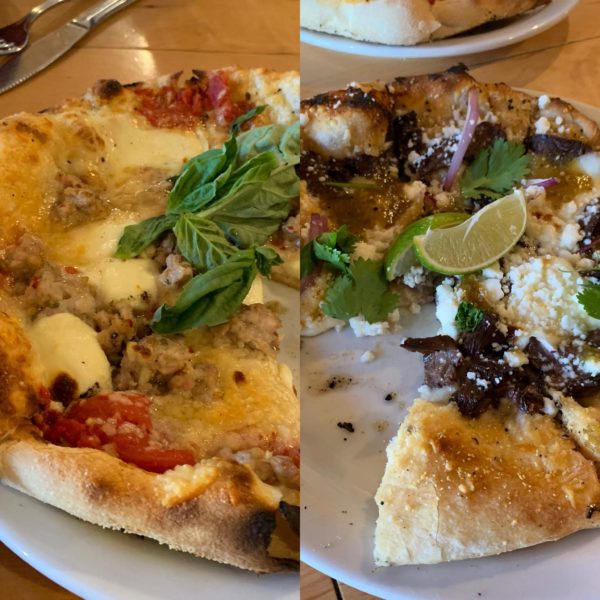 Each pizza was delicious and they were all very different from each other. While we didn't end up going back another time for sandwiches, I'm sure those are just as good based on the quality of their pizzas.
Industrial Eats serves it's wine in cups, not glasses and also pours from a tap, not bottles. I was a bit skeptical that it would be any good served this way. (Wine really should be served in a proper glass so that it catches the aromas from the wine and enhances the flavors, but I am just a bit particular about my wine… )
The Zotovich 2015 Syrah that I ordered was great! I was completely astounded. I just had to find out where I could taste this wine properly. We did a quick internet search for the winery, and that is how our first wine stop in Lompoc on day one made the Central Coast Wine Country wineries list!
Tip: Don't over plan your trip, or at least leave some flexibility. You never know when you'll find something unexpected that makes the trip better than you thought!
Day 1: Getting a Feel for the Area
Breakfast in Buellton
Ellen's Danish Pancake House
272 Ave Of The Flags
Buellton, CA 93427
Hours:

6am – 8pm Tues. to Sat. 
6am – 2pm Sun. & Mon.
Ellen's was the perfect start to our first full day of wine tasting! They show up on many "eat here in Buellton" lists, and for good reason! Fortunately, when we visited on Thursday morning, it wasn't too busy. However, my sister-in-law said they can get pretty busy on the weekend!
Since we wanted to try a variety of items, we ordered the Ellen's Breakfast with Danish sausage, eggs, hashbrowns (a MUST for Travis), and toast AND we ordered 3 Danish Pancakes. Travis said the coffee was good and since I don't drink coffee, I enjoyed a decadent hot chocolate.
Danish pancakes are a kind of cross between a regular american pancake and a crepe. They are super thin, but still have a little bit of fluff to them.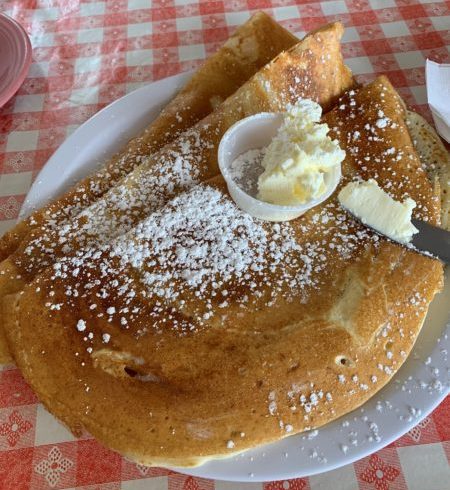 I really enjoyed the pancakes with the whipped butter and syrup they came with. However, sharing those 2 meals between us, we probably could have just ordered 2 pancakes instead of 3.
The Danish sausage wasn't really what I was hoping for. It was a little bland for what I'm used to for breakfast – fresh ground chorizo is our go to choice… It seemed like something I'd have enjoyed on a bun with toppings for lunch instead. The hashbrowns were great, and we're pretty picky about our breakfast potatoes.
Don't worry if you can't make it in the morning, breakfast is served all day! Because everything was so delicious, we definitely plan to go back if/when we find ourselves in the area again.
Wine Tasting in Central Coast Wine Country
Lompoc is just a short 20 min drive from Buellton. It's a tiny little town with a great area devoted to tasting rooms – the Wine Ghetto. The Wine Ghetto is home to around 20 tasting tasting rooms within a small 3 block area.
Zotovich
All the tasting rooms differ in hours of operation and some are by appointment only, so be sure to do a bit of research before you head to the Wine Ghetto. Zotovich was fortunately open by 11am Thursday (the morning we had some available time) and we were there just when they opened.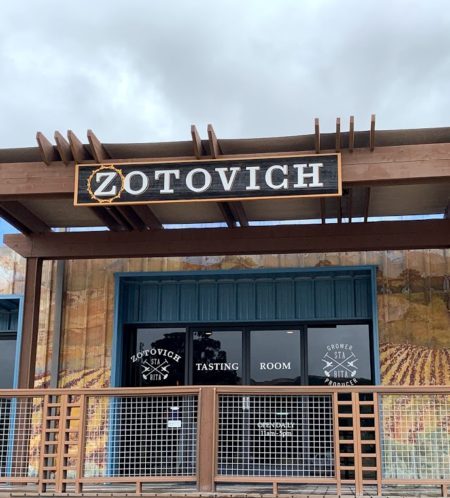 Fortunately, we were the only ones there for over an hour. Zotovich is a small operation and if there had been more guests we would not have been able to have such interesting conversations with Simmone, the general manager.
300 N 12th St building 1 d
Lompoc, CA 93436
Hours:11am – 5pm Daily OR  by Appointment
We loved most of the wines we tried. Travis even liked the whites (had to buy some to bring home)! Simmone taught us a lot about the vineyard, grape selection, and philosophy behind the wines at Zotovich.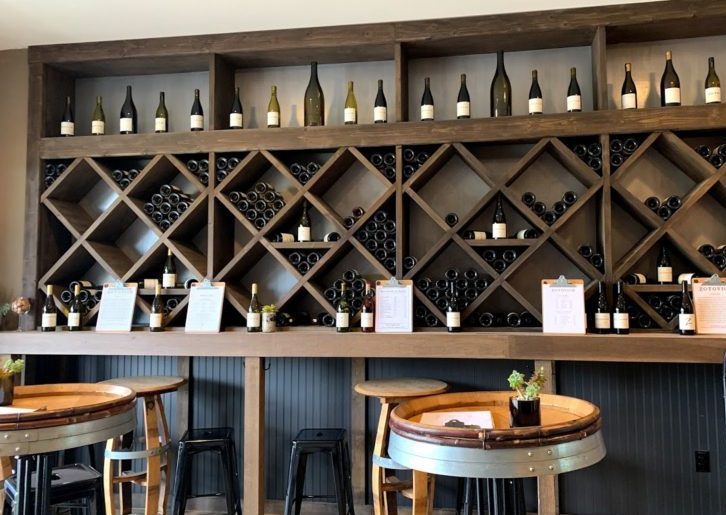 We had some other vineyards and tasting rooms already in our plan for Day 1 and we spent so long chatting at Zotovich that we didn't stop in any of the other tasting rooms in Lompoc. I definitely would plan to spend a bit more time checking out some other places in this part of central coast wine country when we visit again!
We enjoyed it so much we joined their wine club and can't wait to try what is in our next shipment!
​Rusack
​
Rusack's location is absolutely picturesque. Their tasting room is set in the vineyard part way up a hill with lovely views of the mountains and vines.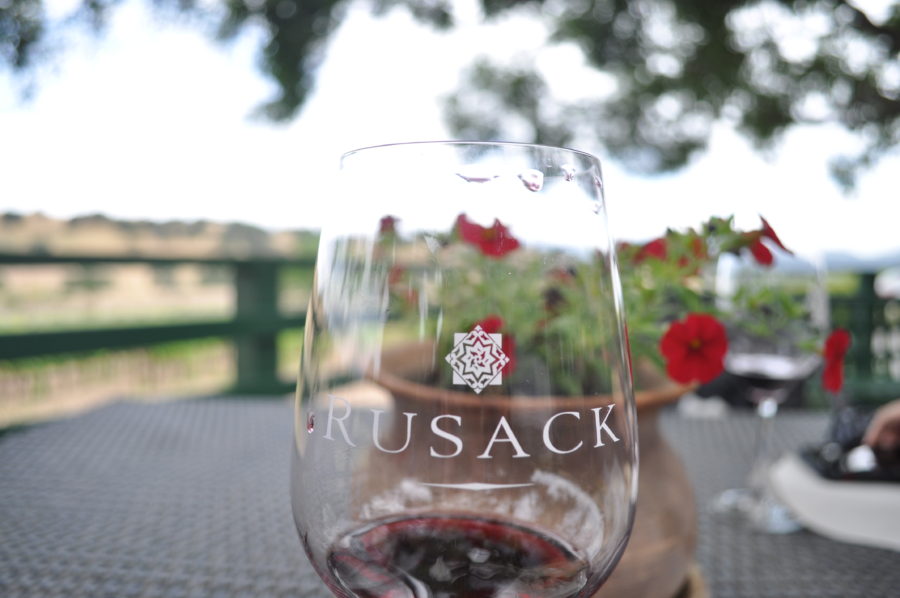 1819 Ballard Canyon Road
Solvang, California 93463
Hours: 11am – 5pm
While the interior tasting bar is on the small side, they encourage you to take your glasses outside to their lovely deck and enjoy each taste.
We chose to stop on our way to this tasting to pick up some sandwiches to enjoy and I would recommend you do the same! Sitting on the patio overlooking the vines is very relaxing.
During the tasting, we found that each of their wines were hit or miss on our preferences. We did really enjoy their 2016 Syrah and brought a bottle home with us.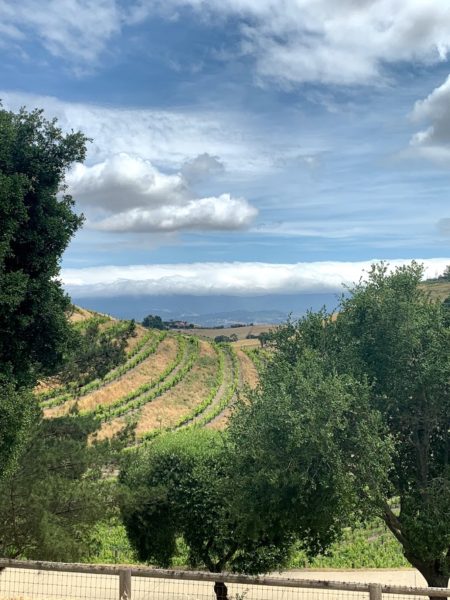 Tip: One thing that was a bit disappointing and you should be aware of, is that they do not sell wine by the glass. They sell tastings and bottles
If you are enjoying lunch on their property and like we did (and there are only 2 of you and you are driving yourselves) it's a good idea to either:
Take the option of tasting while eating – get your first taste, head out to you table & eat a bit with that glass, head back inside for your second taste, back out, and so forth…
Or – you can do what we did and ask to "re-visit" your favorite wine from the tasting and take it out on the porch to drink with your lunch. It's not a full glass, but it's enough for lunch – especially if you have other tastings in your future that day
Or you could always hire a driver – not something we planned to do since we rented a convertible
TIP: Everything in the area is relatively close. However, be sure to map things before you start your day so you know how much time you'll spend traveling from stop to stop.
Day 2: Santa Barbara Wine Trails
There are SO many tasting rooms across MULTIPLE wine trails in the city of Santa Barbara. One day of exploring is just enough to barely scratch the surface of what there is to taste. It's a good idea to do some research ahead of time to narrow down the stops you hope to make a little bit.
Below are a few of the places we stopped. And depending on how long you spend in each stop, you might need more than one day to accomplish just these!
Fortunately, Santa Barbara is a little less sleepy than Solving and Los Olivos so the tasting rooms are open a bit later – most until 7pm. We only hit the highlights (from our research) of the 3 main wine trails: Midtown, The Funk Zone, and Presidio Neighborhood.
Midtown Wine Trail
Other than Jauffers (which we had stopped at on our way up to Buellton), there are very few tasting rooms in this area. Also, they are pretty spread out from each other (read long walk or driving and trying to find parking each time). So, we decided after lunch that we would head toward our number one target wine trail area: the Funk Zone. But lunch first!
Mexican for Lunch! (2 great options)
Los Agaves
Travis and I can almost always be talked into Mexican food. So when my sister-in-law suggested this restaurant, it was a no-brainer!
600 N Milpas St
Santa Barbara, California 
Hours: 11am – 9pm
You order at the counter, they give you a number, you fill your own soda and grab one of many salsas, and find a seat. Everything we ordered was really good: tacos, black beans (served in a yummy crispy tortilla bowl), enchiladas. Like I said, we eat Mexican a lot, so we have lots to compare too.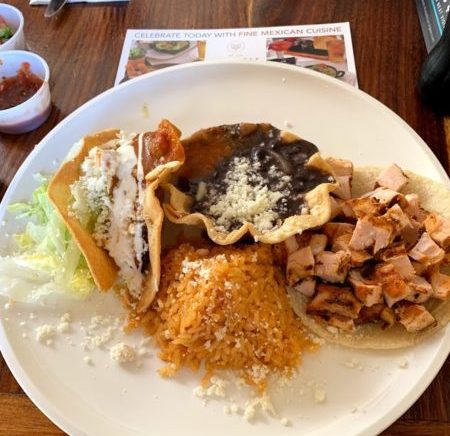 Though we didn't go on the same day, this restaurant is just 5 blocks up the road from Jaffurs. Again, parking in this area is mostly street parking.
Mony's Mexican Food
217 Anacapa St.
Santa Barbara, California 
Hours: 10:30am – 4:30 PM
(closed Sun)
Simple, delicious tacos. This spot was recommended by our first tasting room host of the day Mickey from The Valley Project.
It was busy when we got there for our mid-afternoon break from wine tasting. The line was short, but the seating was in short supply. Luckily, we found spot just as someone was getting up.
I love a fresh tortilla and their corn tortillas were so good. We chose 3 tacos to share: carnitas (Travis' choice for comparing all tacos), chorizo, and pollo asado. Be aware that they serve them with only onions and cilantro – and it's a good amount. So if you are one of those that doesn't like cilantro, be sure to ask them to leave it off!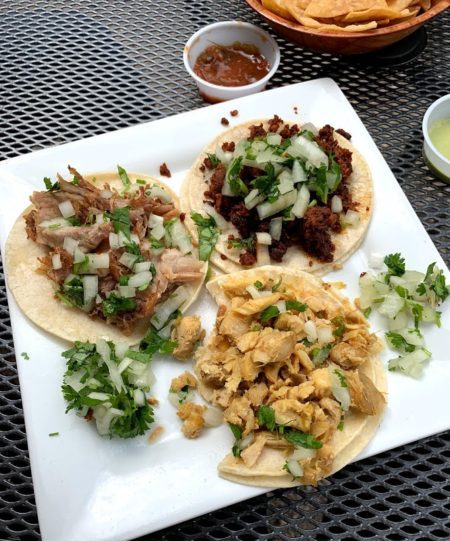 Stopping at Mony's was the perfect afternoon break in our wine tasting. Just enough food to hold us over until dinner (and keep us from getting too drunk).
The Funk Zone Wine Trail
Stearns Wharf
217 Stearns Wharf
Santa Barbara, CA
Hours: 8am – 10pm 
We headed to the downtown area of Santa Barbara and were able to easily find public parking (paid) just next to the Stearns Wharf. Since we were so close, we decided to wander over and checkout the view of the city with the mountains behind.
It was a gorgeous day and we were not disappointed!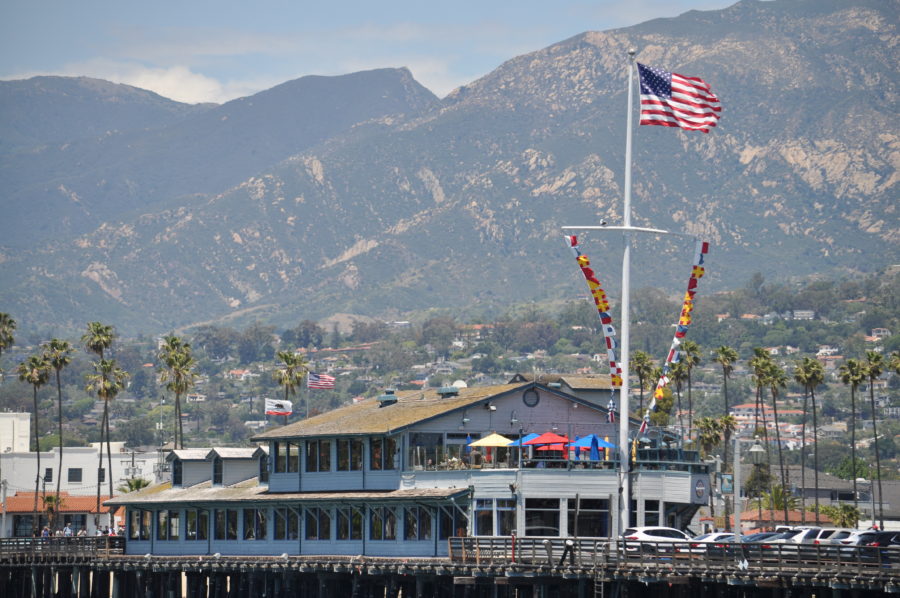 Other than the great view, there is a good bit to see and do (and eat on the pier. There are a number of restaurants and shops to browse. There were people with their fishing poles and some large pelicans waiting to see if they might get a snack.
Be aware that cars are allowed to drive out on the pier and there's a small section for parking. So, pay attention where are you are walking!
The Valley Project
I highly recommend starting with this tasting room when you are in Santa Barbara. While these wines were not my favorite and we didn't choose to purchase any to bring home, the amount of information on the area itself, the unique micro-climates that allow for so many varietals to flourish in such close proximity, was really great.
600 N Milpas St
Santa Barbara, CA
Hours: 12pm – 7pm 
If you've been doing your research on a Wine Itinerary in Central Coast CA, you've probably seen the picture of their chalkboard map of the valley. (​See below…)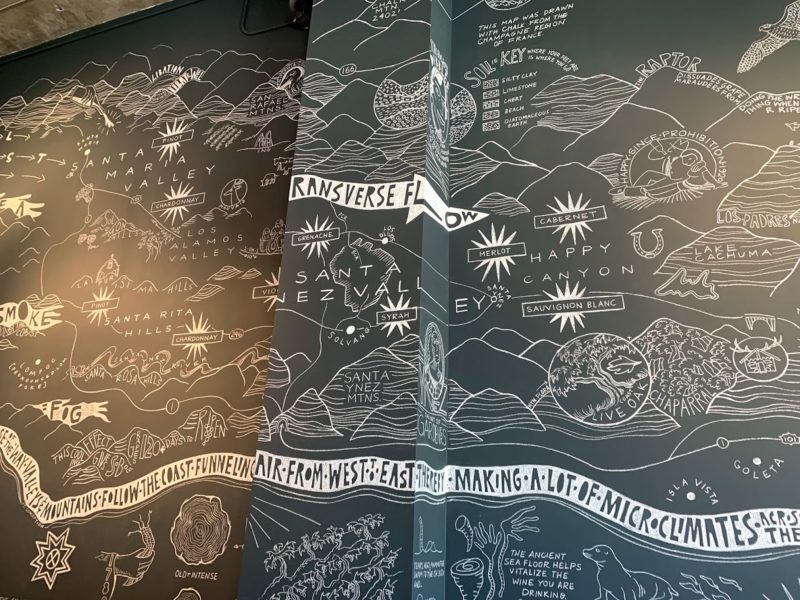 We also had a great time talking with Mickey during our tasting. He was extremely knowledgeable about the wine region and other tasting rooms in Santa Barbara.
One of the things I really enjoyed about tasting in central coast wine country is the sense of family among the wine community. When you didn't like some of the wines in your tasting, all of the wine hosts tried to figure out what you did like and would even direct you to other tasting rooms so that you could find something you loved!
Kunin
28 Anacapa St
Santa Barbara, CA
Hours: 11pm – 7pm 
Kunin was one of the tasting rooms on our short list and it was reinforced by Mickey during our tasting at The Valley Project. He explained how they were sister wineries and made their wines in a different style. So, this was our next stop!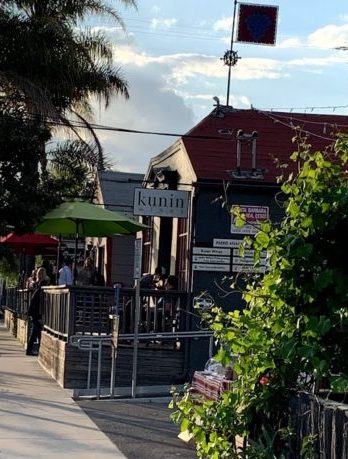 These wines were right up our alley. So much, in fact that it was difficult to decide what we wanted to purchase to bring home. We bought a wine suitcase with us on this trip that holds 12 bottles, and we were being very judicious with that space!
The wine we chose to buy was one of the more interesting ones. It is made completely from a varietal that is usually only used as a belt ending grape – Mourvèdre. (Which is also known as Monastrell.) Mourvèdre makes a rich full-bodied wine with flavors of dark fruit and black pepper. All flavors that Travis loves!
Corks & Crowns
Corks & Crowns
32 Anacapa St
Santa Barbara, CA
Hours: 11pm – 7pm 
While this shop doesn't solely focus on local wines, they have quite a wide selection of bubbly and a really cozy atmosphere. We popped in here to have a quick tasting flight and see about picking up a gift for a lover of sparkling wines.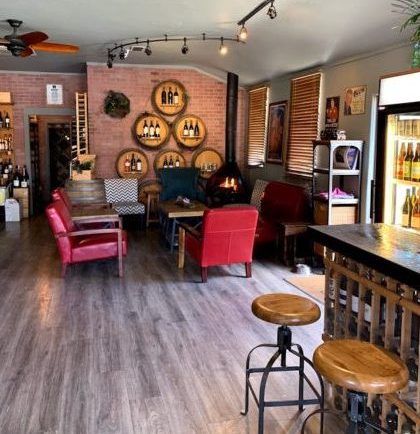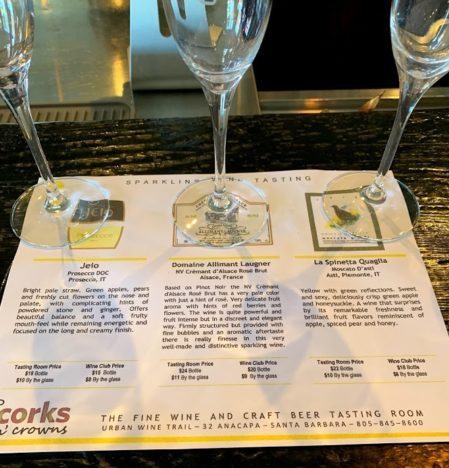 Corks & Crowns really did have a vast selection from all of California, not just wine from central coast wine country. Although we didn't, you could have easily composed an interesting tasting selection of similar wines across California. Things to keep in mind if you plan on hosting your own tasting!
TIP: Remember when wine tasting that each person does NOT have to have (and pay for) their own tasting. It's perfectly acceptable to share one tasting between 2 people, save some money, and not get too drunk!
Presidio Neighborhood Wine Trail
Grassini
Grassini
24 El Paseo
Santa Barbara, CA
Hours: 12pm – 6pm 
We found that there are more Rhone varietals in central coast wine country, which I love. But we wanted a comparison to the wine we usually drink from other parts of California – typically Cabernet Sauvignon.
Grassini Family Vineyards specializes in Cabernet Sauvignon, so how could we pass it up! We had a lovely time chatting with the bartender as we sampled a few of their different cabs and red blends.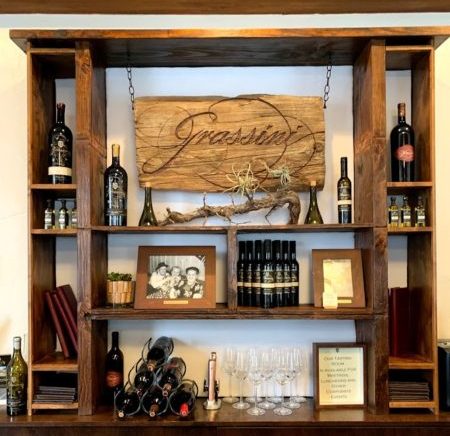 While we thought their wines were very interesting, our overall impression was that they were just more expensive than we were looking to spend.
Jaime Slone
Jaime Slone was our last stop on a very full day. I wanted them on the list because I'd heard that they had some interesting white wine options.
Jaime Slone
23 E. De La Guerra St.
Santa Barbara, CA
Hours: 12pm – 6pm 
Travis chose to sit this tasting out. (Which was good since he was going to be driving us back to Buellton!) and I sampled some lighter reds and whites. We left with a bottle of Sauvignon Blanc for the wine suitcase to close out our day of tasting in Santa Barbara.
Ice Cream for Dessert
McConnell's Fine Ice cream
728 State Street
Santa Barbara, CA
Hours: 11:30am – 10pm Sun – Thurs
11:30am – 11pm Fri & Sat
(​varies slightly by season)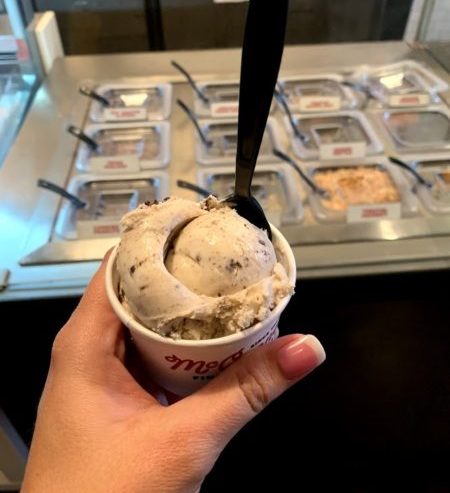 I'm not sure what I'm missing here, but this place seems overrated. I saw this place listed on a number of blogs as a must try spot for dessert in Santa Barbara. So, we made our way over for a snack.
It was early evening when we stopped in and the line was really long, though it did move quickly. There were lots of flavor options, choices for those with dietary restrictions – dairy free, etc. I got a simple cookies and cream and Travis his goto chocolate milkshake.
It was $14 for a single scoop and an 8 oz milkshake (without whipped cream because they were out)!! I know – CA prices vs. FL prices… but it was just fine. Not amazing or mind-blowing… just fine. I'm sure there is better, more reasonably priced ice cream in the area.
Day 3: Let Someone Else Drive
I get pretty involved when planning a wine trip like this. I do tons of research and try to make sure we don't miss some of the best things.
However, for this trip, I knew that we would not have nearly enough time to explore all that Central Coast Wine Country had to offer. So, I decided to relinquish a little bit of control for Day 3 and book a wine tour.
Book a Wine Tour
We chose Grapeline Wine Tours to be our planner, logistics coordinator, and designated driver for the day. There are many tour options in the Santa Barbara area for wine tours, and Grapeline fit our budget and timeline.
We booked 3 spots for a Saturday; one for me, Travis, and my brother. The tour left from Solvang around 10:30 am, took us to 4 wineries and returned us to our starting point around 4:30pm.
We had a great time tasting wine & olive oil, getting to know some other travelers, and learning a little bit more about what my brother likes in wine. (It's still surreal that he's old enough to drink… I still sometimes think of him as just my kid brother!) Check out our full post on our Grapeline Wine Tours experience.
Explore Solvang
After hopping off the tour van, we wandered the cute little town of Solvang. This is a Danish town and most of the buildings are in the historic timber and whitewash style.
Old Danish Fudge Kitchen
The first place we stopped was Old Danish Fudge Kitchen! Of course, that's exactly what you should do after a long day of wine tasting – buy some chocolate!
441 Alisal Road Unit A
Solvang, CA
Hours: 9am – 6:30pm weekdays
9am – 7pm weekends
There were only a handful of flavors of fudge available at the end of the day and there were a bunch of other sweet treats. However, they actually had dark chocolate fudge, which I think is difficult to find and find done well. This dark chocolate fudge was EXCELLENT. No picture – it didn't last long enough! My brother got the flavor penuche which tasted just like our grandma's southern caramel cake frosting. If you have a sweet tooth, check them out!
TIP: Lots of shops in Solvang close earlier than you'd expect – around 5 or 6 pm. So, don't arrive too late in the afternoon and expect to be able to wander after dinner until 8 or 9.
Day 4: Fancy Wine Tasting
Fess Parker Wine Tasting
Sommelier Curated Tasting at Fess Parker Winery
Fess Parker Winery
6200 Foxen Canyon Road
Los Olivos, CA
Hours: 10am – 5pm
I was most excited about this tasting all during the planning. My brother and his wife are not big wine drinkers and they were coming with us.
One of my favorite things about wine is how it can bring people together and allow us to share and celebrate our differences. This is because no one experiences a glass of wine the same way!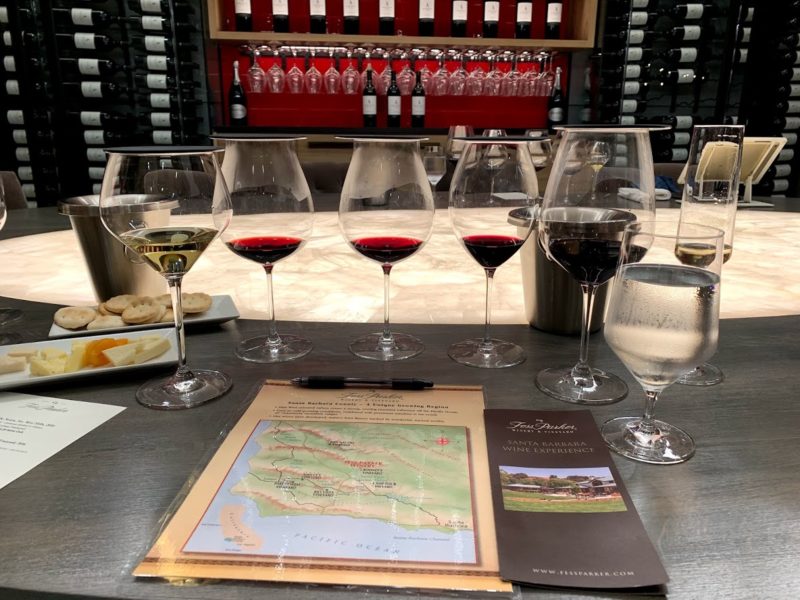 This tasting was in a very elegant tasting room and expertly led by Dana, who had just passed her level 2 Sommelier exam. We were guided through the Fess Parker Staples, but then we asked for something special.
Dessert wine. I knew they had a while late harvest, but they also have a Port Style red wine. OMG – both were amazing!! We left with a few bottles and so did my brother and his wife!
The ground were beautiful and would be a great place for an event or even just a simple picnic. We ended up joining their wine club to and are anxiously awaiting our fall shipment!
Lunch in Los Olivos
Sides Hardware and Shoes
Get a reservation! Since this place is only open for lunch and the space is small and very popular on the weekend, you really should plan ahead enough to reserve a table.
2375 Alamo Pintado Avenue
Los Olivos , CA
Hours: 11:30am – 3:00pm
We were able to get a table for a late lunch – around 1:30/2pm – but just barely! The hostess started telling all walk-ups just after us that they were completely booked for the rest of the day.
After being seated, it took us a while to figure out what we wanted to eat. Everything looked and smelled great. All we knew was that we were wined out for the day, so I can't really speak to their selection. We didn't even really look.
We settled on Fried Calamari to start and it was served mixed with fried onion, radish, and jalapeno. (So watch out for the spicy bits!) The lime aioli it was server with was different from the normal ramalaude you find with most calamari and paired really well.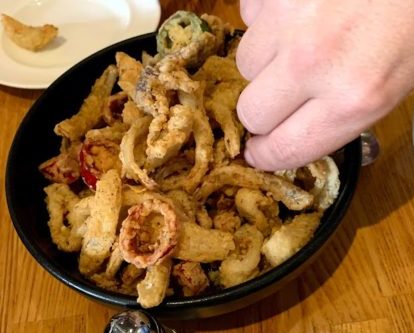 This place is ALL about the bacon!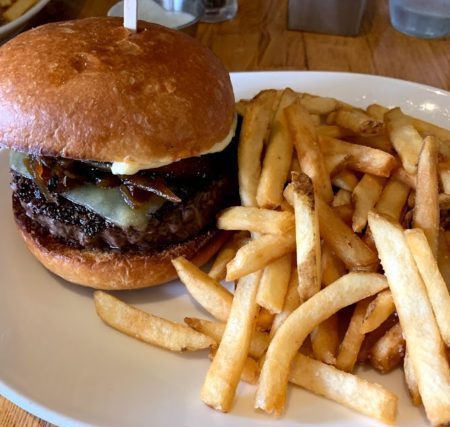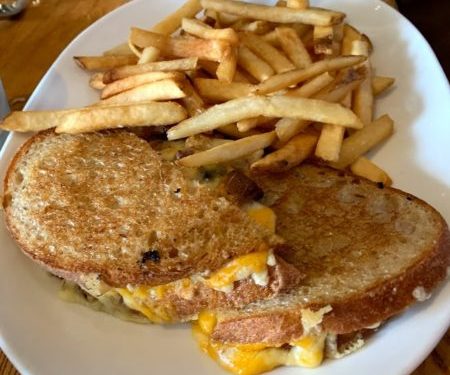 Bacon is in so many dishes on the menu and it is EXCELLENT!! I had it on the Bacon Burger and Travis had it on the Sourdough grilled cheese. The bacon was so good I even thought about ordering the Brother Bacon Steak appetizer AFTER my meal. But I didn't. I was stuffed (and ready for a nap).
Other Things We Know We Missed
​​(missed this trip…)
After having this quick tour of the area, I think we have some great ideas of how we will structure our next trip out to Central Coast wine country. And yes, we will be back. Napa always gets the big hype when it comes to California wine country, but this area has lots to offer too.
I really enjoyed the different varietals and how most of the areas seemed much less commercialized than Napa. That does not mean that there are not touristy areas, but it seemed a bit slower. You got to really chat with people much closer to the actual winemaking than generic tasting room staff – sometimes we even got to chat with the winemaker themselves!