When we were planning our visit to Buellton to visit my brother and explore wine in the central coast of California, we knew we wanted to take advantage of the many wine tour options that were available. After some research into pricing, itinerary, and date availability, we selected Grapeline Wine Tours to add to our trip.
Tiny grape berries starting to grow.
About Grapeline Wine Tours:
Grapeline Wine Tours is a larger tour company that runs wine tours in 5 major wine areas in California: Napa Valley, Paso Robles, Sonoma Valley, Temecula, and Santa Barbara.
Depending on the wine region you are touring, Grapeline Wine Tours offers a few different tour options. Private tours are available in all regions they serve. A Wine Buyer tour is available in Sonoma. The option we chose, the Vineyard Picnic Tour, is available in Sonoma, Paso Robles, & Santa Barbara. Check out more details on the their website.
New to wine tasting? Check out our post on the basics of tasting wine to get started!
Booking A Tour:
Booking online was quite simple. They listed a wide variety of pick-up options: Buellton, Solvang, Los Olivos . All close to the vineyards and tasting rooms in the Santa Ynez Valley and even pick-ups from Santa Barbara (for an added fee due to the distance).
At the time of booking, they also request that you enter your lunch order. They provide boxed lunches from a local catering company. There are 8 different sandwich options to choose from and each comes with chips, a cookie, and a bottle of water. You do have the option to choose TBD, in case you don't have all the details for your party.
There is also a section in the booking for notes. In this section, you can enter details about an event you may be celebrating, winery preferences, or if you are part of a larger group that happens to be booking individually. While we were on our tour, we did see more than one Grapeline Wine Tours van, so it would be important to note if you were joining a larger group!
Pricing
Pricing for each tour varies by region & date, so be sure to check out their website to get the most accurate info. For our Santa Barbara tour, it was $139 per person on Saturday. Weekday pricing was a little less. We booked 3 spots on the tour about a week before and they had space for us.
Logistics
Since we were staying with my brother, we chose the option of being picked up in Solvang. Close to Buellton, it's a nearby town with lots of cute shops we intended to browse after our tastings were finished.
The day after we booked online we received an email letting us know of a good option in Solvang for us to meet the bus. They also included helpful information about where we could find FREE parking for the whole day near that pick-up/drop-off point. Super helpful if you're not familiar with the area! With pick-up/drop-off location settled, we received a new confirmation with an adjusted pick-up time.
Tour Day:
We met our van at the appointed time on tour day, and it was right on time. The van could seat about 20, but our group only had 12 people. The seats on the van were very comfortable and so was the temperature.
We were provided with a printed itinerary listing the vineyards we were going to, details about the vineyards, types of wines we'd be tasting, and the time we'd be departing each for the next stop. There were also discounts of 10% – 15% for the purchase of bottles at each of the stops depending on the winery.
Our tour itinerary!
We visited 4 wineries and had about an hour at each one. We did not know ahead of time which stops we'd be making, and Grapeline Wine Tours has many vineyard partners that could have made the list. Our stops were Firestone Vineyard, Koehler Winery, Blackjack Ranch, and Roblar Winery.
Stop 1 – Firestone Vineyard
At Firestone, we were supposed to have a behind the scenes tour, however those plans changed as it was Memorial Day weekend and they were quite busy and did not have the staff to lead the tour. Though slightly disappointed, they provided each tour guest with a complimentary bottle of Chardonnay since we missed out.
Since we were ahead of schedule due to the missed tour, our driver called up a local olive oil producer and asked if we could stop by for a quick tasting at Rancho Olivos!
We stopped at a roadside stand and tasted some amazing olive oils, balsamic vinegars, and honeys. It was pretty cool to be tasting the olive oil while looking at the trees that produced the olives. There were a number of flavors of extra virgin olive oil like garlic, Italian, or Meyer lemon. In addition to tasty treats, they had the cutest mascots! Two dogs, a golden retriever & corgi, that were lazily lounging around the tables.
Stop 2 – Koehler Winery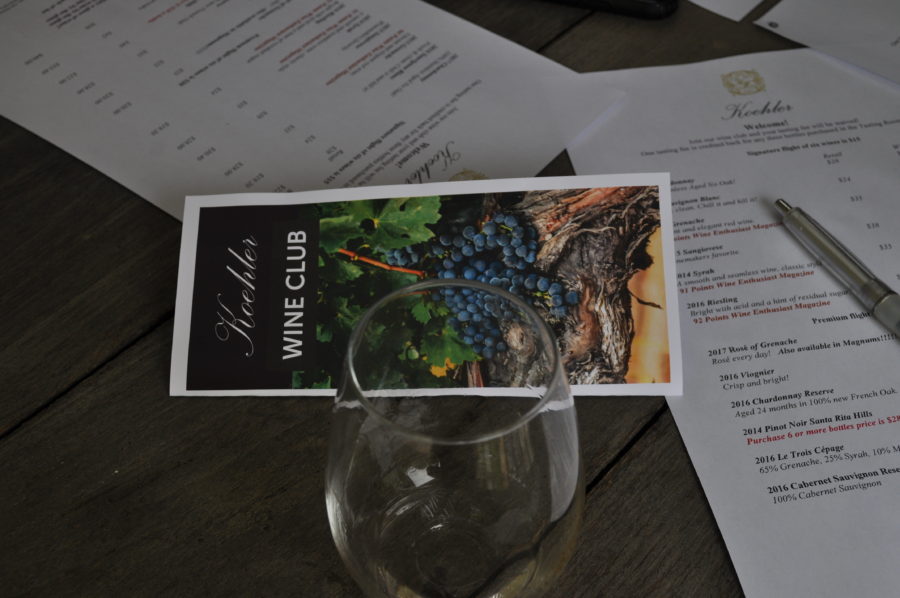 Koehler tasting list & wine club info.
Our second stop was Koehler where Dan was our wine tasting host. He's the only one I remember by name from this tour, and that's because he was so much fun! He had great info about the wines we were tasting and made some funny jokes in the process.
We enjoyed our box lunches at the picnic area at this winery and they were nice enough to give us generous pours of "anything you wanted to revisit from the tasting list". So, I enjoyed a nice Syrah with my roast beef sandwich.
We liked their wines so much that we took advantage of the bottle discount that Grapeline Wine Tours provided us and purchased 6 bottles! We are excitedly awaiting their delivery this fall. They offer the option to store them and ship them once the weather is cooler since we live in Florida and wine can be ruined in hot delivery trucks.
Stop 3 – Blackjack Ranch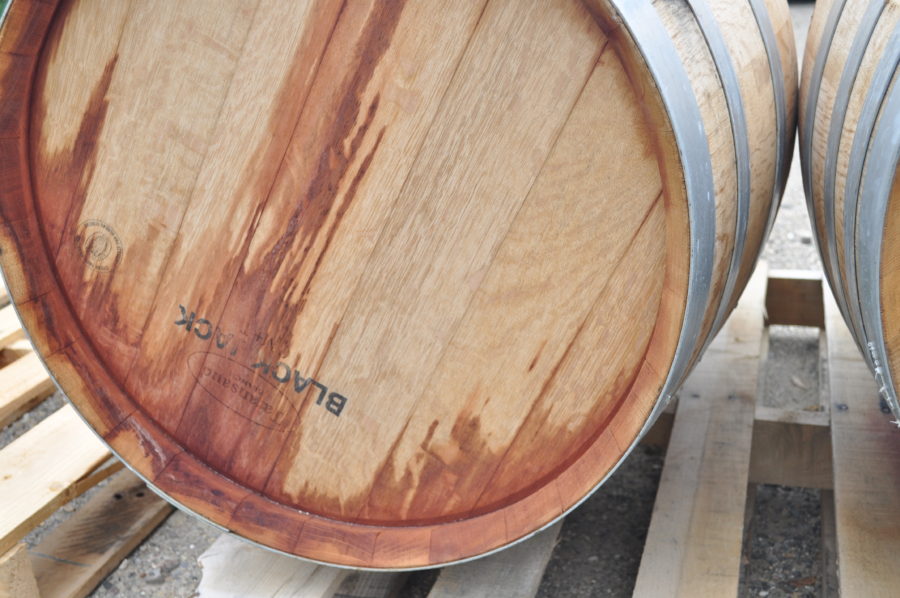 Barrel from Blackjack Winery.
Blackjack is one of the wineries featured in the movie Sideways. Sadly, we really didn't enjoy anything that we tasted there – neither did many of the others that were on our tour. When mentioning this to our driver as we were loading the van for our last stop, he said that's pretty typical for this spot. People either totally love it or really don't like it at all. I suppose that not liking, and thus not drinking the whole tasting pours, helped us not get too drunk since there was still one more stop!
Wine tasting like this does make for a LONG day and makes you very appreciative of the van driver. Another group on our tour was smarter than we were and packed some snacks like chips and pretzels. Thankfully, they were more than willing to share with the whole group. I'm not sure that I would have made it through the last tasting without that additional pick-me-up.
Stop 4 – Roblar Winery
Our final stop was at Roblar and it has a really pretty tasting room, that I unfortunately don't have any good pictures of. I can't tell you much about their wines either, other than I think they were good. As I said, we were quite tired and so were our taste buds. Tasting 5+ wines at each and enjoying them, not tasting and spitting out the wine (which is 100% acceptable) leaves your palate a bit fatigued. I would like to head back to Roblar another time and taste their wines when we are fresh because I really think their wines would be something we'd enjoy.
Our driver gathered us up and began the drop off route. Many of us had the same idea of wandering through Solvang and shopping or finding a bite to eat, so he was nice enough to take us to a central location and we wandered back in the direction of our car.
Closing Thoughts:
Overall, we really enjoyed our wine tour. The ride was comfortable, the wineries were all different from each other, and lunch was delicious.
If you are looking for a tour but don't want to plan all the details, I'd recommend Grapeline Wine Tours. Though we didn't do a private tour, it's also worth reaching out to them if you have some particular wineries you'd like to stop at and don't want to drive. Taking the logistics out of the day allowed us to enjoy more and know that someone else was handling the details of timeline, directions, and being sober to transport us safely.
Inspired to host your own wine tasting? Here are some tips for you!