This post contains affiliate links. That means that if you buy something through these links, I may earn a commission.
I love living in sunny Florida, but New York City will always have a big piece of my heart. I lived in New York City two different times for a total of 3 years. Travis lived in Queens for 9 years before we moved south to escape the snow.
We met in New York City while working in the freelance production industry focused on entertainment lighting. We have lots of good friends that still live there and made some really great memories.
Being born, raised, and colleged in Florida, many of my friends and family members were always excited to hear about my adventures living in the Big Apple. Unfortunately, as it is with many freelancers, I didn't "do" all that much other than work, eat, and sleep. That being said, the eating was amazing!
The variety of food that can be found in New York City is astounding. All different foods of various ethnic origins, dietary specialties, price points, and simple to gourmet. The food is certainly what I miss the most!
We try to take a trip back every year to New York City to visit friends… and to eat. The first list we make when we start planning a trip is where we want to eat. Old favorites, new restaurants we've heard about from friends, blogs, or other foodie outlets, or places we wished we'd gone when we lived there all go on to the list.
We almost NEVER make it through the whole list! We try to have more than enough places so  no matter what neighborhood we're in when hunger strikes, we have an idea where we want to go.
Current Favorite Eats in New York City
With so many places to choose from, this post could go one forever! So to focus, I'm just picking my CURRENT favorites and split these in to general meal-type categories. I can guarantee that this list will change again after our next visit in the fall!
Breakfast: Ess-a-Bagel
It's true, the line can often be out the door – and for good reason. With 14 different flavors of bagel to choose from, types of cream cheese I'd never even heard of, and creative sandwiches like my favorite, the Ess-a-BLTA, you'll be challenged to choose just one thing for breakfast!
Ess-a-bagel has an assortment of sandwich fixin's to make any type of sandwich you can think up. Their baked goods look and smell amazing. I've not tried their baked goods – I always go with a bagel in some way. It's the perfect way to fill up for a morning of sight seeing. Don't worry, you'll walk it off in no time! You can check out their menu here.
If you fall in love with these bagels and crave them once you've returned home from your New York City trip, you're in luck. You can have these bagels shipped OVERNIGHT to your door through Goldbelly.com.
Lunch: Schnipper's
Then there are the milkshakes. Schnipper's has over 10 flavors with classics like Chocolate, Vanilla, & Strawberry and more unique flavors like Honey Vanilla or Salted Caramel. I always get the Neopolitan Black & White. You can also order ice cream floats with root beer, grape soda, or orange soda – yum!!
Then there are the milkshakes. Schnipper's has over 10 flavors with classics like Chocolate, Vanilla, & Strawberry and more unique flavors like Honey Vanilla or Salted Caramel. I always get the Neopolitan Black & White. You can also order ice cream floats with root beer, grape soda, or orange soda – yum!!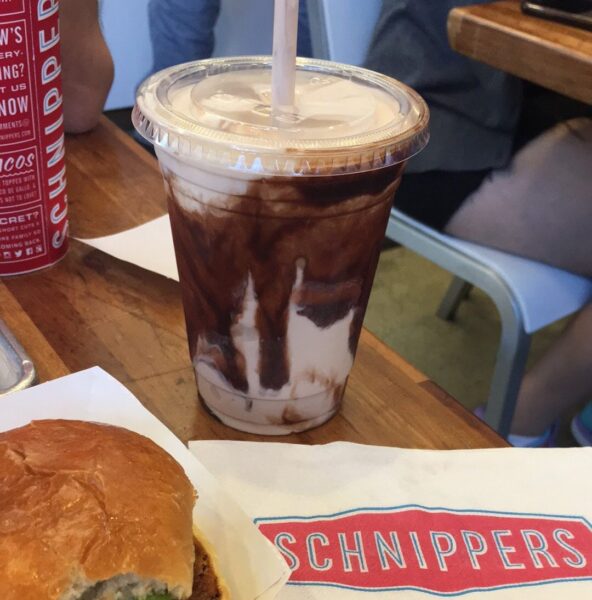 They have a few locations around Manhattan, so you don't have to be checking out Times Square. Which, it's ok if you're not! Times Square isn't the only thing to see. But if that's the location you're heading to, you can see the menu here.
Afternoon Snack: Pizza or anything at Eataly
No trip to New York City is complete without grabbing a slice from a pizza joint. There are so many restaurants that are great all over Manhattan, it's hard to pick just one to mention.
Avoid any of the dollar pizza places. Those slices usually just taste like cheese on cardboard. I have eaten at them. I was a freelancer, and getting started finding enough work is tough – so you eat what's cheap. However, most other places aren't that much more expensive and have substantially yummier slices.
You can often let your nose be your guide if your traveling anytime other than winter. Shops will often keep their windows or doors open and you can decide that way.
Maybe pizza isn't the Italian food you're craving. Eataly is an Italian market right across from the Flatiron building. Photo Op time!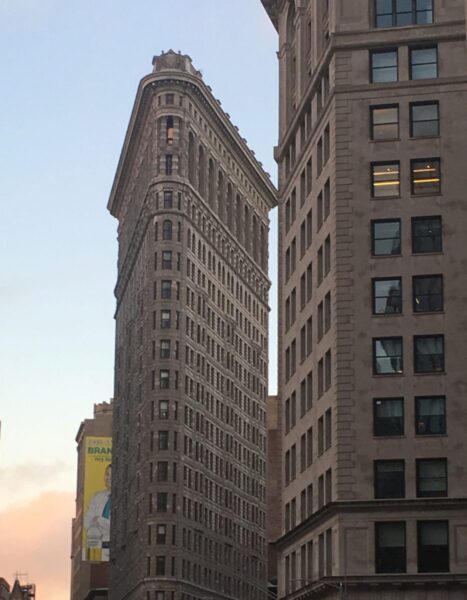 Flat Iron Building NYC
You can find all kinds of goodies to snack on here. We ordered a charcuterie plate and some wine the last time we stopped in. I also grabbed some gelato on the way out…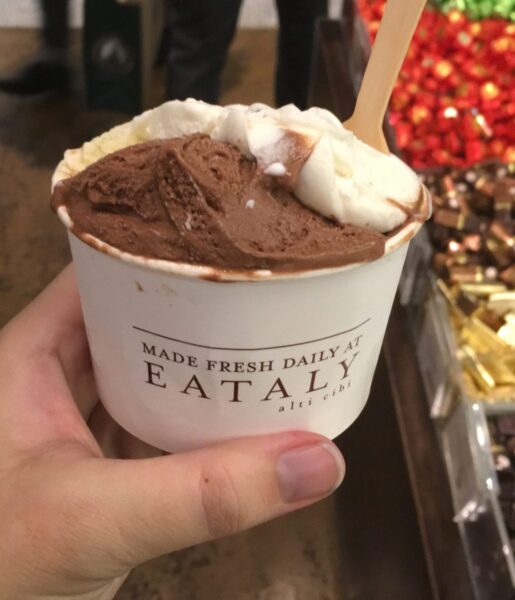 Chocolate and vanilla gelato from Eataly!
Were you moving so fast through your list of sites that you missed lunch? Well, you can do that here too. There is an open section, kind of like a cafeteria, with different stalls with all kinds of options for snacks or full meals.
You also can find recipes and the groceries to complete a delicious meal if you're staying somewhere with a kitchen. We usually are in a hotel when we visit New York City, but maybe next time this could be an option.
Dinner: Beauty & Essex
I don't know what ISN'T good here. Each time I've visited everything has been on point; the ambiance, the cocktails, and all of the food. This little Lower East Side restaurant is a MUST!
Beauty & Essex is a small plates or tapas style restaurant. I recommend bringing a group so you can try everything. Most plates come with four pieces or bites, but they let you add on as needed. If there are five of you, just ask your server to add one more so you can all try.
We've been twice now, once in New York City and once in the Las Vegas location. The challenge has been to not over order both times we've been. Luckily with small plates, they come out of the kitchen pretty quickly. So order round one, then decide on round two and order some more!
A must try is the grilled cheese, smoked bacon, & tomato soup dumplings. I dislike tomato soup, but I was told I must try them. So I did, and I fell IN LOVE! Now, I'm telling you. TRY THEM! They might be the single most delicious bite of the whole meal. We order them every time and sometimes a second round. They are tomato soup in a porcelain soup spoon with a tasty little bite of grilled cheese, sprinkled with perfectly crispy bacon bits.
Chef Chris Santos is known as one of the pioneers of the small plate dining trend and has a few other restaurants that are great also, such as Stanton Social. If you find yourself in Las Vegas or LA before you can make it to the gem in New York City, you can find Beauty & Essex there as well.
You can certainly find many other great places to eat in New York City. These just happen to be my current favorites. I'm sure that this list will change the next time we go. Do you have suggestions? Leave them in the comments below. They might just make the list for our next trip!